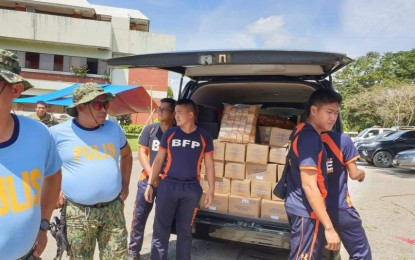 MANILA -- The Department of Science of Technology (DOST) will give 30,000 packs of ready-to-eat food to earthquake victims in Mindanao, Secretary Fortunato dela Peña said on Friday.
The packs contain DOST-developed products, such as rice porridge, smoked fish rice meal, and BigMo (bigas/rice - mongo) curls which is a snack that could apparently provide 12 percent of recommended energy and 11 percent recommended protein to children.
"To date, 2,490 arroz caldo (rice porridge), 504 smoked fish rice meal, and 150 BigMo were turned over to the province of Cotabato. They (DOST-12) will be sourcing out 150 packs of complimentary food from Sultan Kudarat University, for distribution," dela Peña said in a message to the Philippine News Agency.
He added that DOST-12 needs help from the National Disaster Risk Reduction and Management Council for the delivery of 30,000 packs of ready-to-eat food from the DOST-Industrial Technology Development Institute (ITDI) in Bicutan to Region 12.
The ITDI developed the ready-to-eat smoked fish rice meal, according to dela Peña.
The rice porridge, called "Pack of Hope", was also developed by the ITDI. It was packed in a retort pouch and has a shelf life of at least one year.
Magnitude 6.6 and 6.5 earthquakes rocked Tulunan, North Cotabato on Tuesday and Thursday, respectively.
A magnitude 5 earthquake also hit Makilala, North Cotabato on Friday afternoon. (PNA)