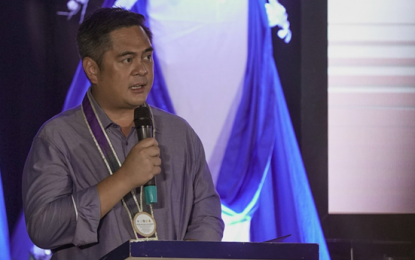 NONTHABURI, Thailand -- The perpetrator of the "news" that supposedly came out in one of the local newspapers here, saying that Thailand King Maha Vajiralongkorn warned President Rodrigo R. Duterte to "behave", will be exposed, Communication Secretary Martin Andanar said Friday.
The news is fake since the Nov. 1, 2019 copy of the Bangkok Post, which supposedly carried the "news", was edited, Andanar told Filipino journalists covering the 35th Asean Summit and Related Summits to be held here and in Bangkok on November 2-4.
He said he got the confirmation from a Bangkok Post journalist during the Secretary's interview at the newspaper's office during the day.
"I will call the attention of the National Bureau of Investigation (NBI) to get to the bottom of this if they can use their cyber forensic division to trace the person who spread the fake news and have him pay for what he did," he added.
Andanar presented to journalists a real copy of the issue of the English-language newspaper wherein the portion of the supposed news on Duterte was really about a report calling for the adoption of 5G or the fifth-generation cellular network technology.
He emphasized the "good relations" between the Philippines and Thailand.
He even pointed out that if the deed was done in Thailand, the person behind that malicious news would be jailed for 15 years. (PNA)