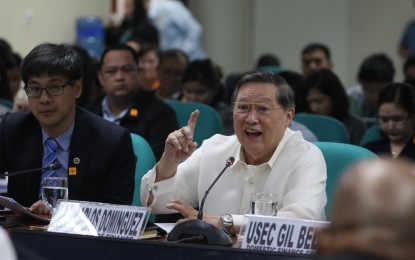 MANILA -- Treasurers and assessors from earthquake-affected areas in Mindanao have been directed to immediately submit damage reports to determine rehabilitation financing requirements.
This was disclosed by Finance Secretary Carlos Dominguez III in a Viber message to journalists Friday.
He said the Department of the Interior and Local Government (DILG) and the Department of Social Welfare and Development (DSWD) "have funds and goods for immediate release for disaster relief for the victims."
He said the assessment of damages to government infrastructure and buildings "should take a week or so" but is "a bit longer" for private properties.
He said the Social Security System (SSS), the Government Service Insurance System (GSIS), Philippine Guarantee Corporation (PhilGuarantee), and the Pag-IBIG Fund or the Home Development Mutual Fund (HDMF) "will develop programs to assist (the victims)."
The Department of Finance (DOF) chief added that the Land Bank of the Philippines (Landbank) has a calamity rehabilitation support program.
These state-owned agencies are under the DOF.
Officials of some of the areas hit by the 6.5-magnitude earthquake that hit parts of southern Philippines last Oct. 31 have called for help due to the magnitude of damage in their areas.
Last Thursday's tremor, that hit Tulunan, North Cotabato, is the third that hit the country's largest island group for the month of October alone.
Tulunan, North Cotabato was first hit by a 6.3 magnitude tremor last October 16 while its southern part experienced a 6.6-magnitude earthquake last October 29. (PNA)