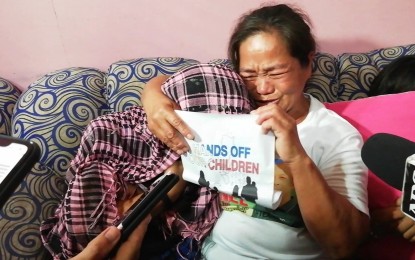 BACOLOD CITY -- Nilda Villamonte, a laundrywoman from La Carlota City, Negros Occidental, thought that her 12-year-old daughter was just attending a dance practice for a cultural show in this city after not being home for some time.
On Saturday afternoon, the 54-year-old single mother found herself at the Bacolod police headquarters, where her youngest child was being held. She was among the 14 minors rounded up by authorities during a search operation at the compound of Bagong Alyansang Makabayan, Kilusang Mayo Uno, Gabriela and allied groups in Barangay Bata late Thursday afternoon.
During the raid, police and military operatives seized firearms, ammunition and explosives, and arrested 40 persons with alleged links to the Communist Party of the Philippines-New People's Army (CPP-NPA), who have been holding meetings together with the minors for the past several days.
"Wala ko ga expect nga amo na ila ginahimo ya. Abi ko gani may contest sila saut sa Bacolod 'ya (I did not expect that she was with people doing those things. I thought she was in Bacolod for a dance contest)," the sobbing mother said.
Villamonte said the authorities were able to locate her on Saturday, and brought her to Bacolod to confirm if her daughter, a seventh-grader and the youngest among three siblings, was among the detained minors. Her daughter went to Bacolod around Oct. 16 or 17, she said.
"Bag-o ko lang ni siya gani nakita. Pila na kaadlaw wala kami kakit-aay. Kis-a gatawag ko sa cellphone niya (We saw each other only now. We haven't seen each other for several days. I sometimes try to contact her on her cellphone)," she told reporters while inside the Women and Children Protection Desk office, tightly embracing her daughter.
Villamonte said last year, her daughter, who was then in sixth grade, started joining the activities of the progressive groups upon the invitation of a relative.
This made her miss her classes and got failing grades.
Villamonte said her daughter would tell her that they are practicing for a cultural contest in Bacolod. She would be away for some time, not telling her mother about her whereabouts.
"Kis-a isa ka semana, duha ka semana waay gapuli. Kung tawgan mo wala gasabat (Sometimes she's away for a week, sometimes even two weeks. She doesn't answer my calls)," Villamonte said, adding that whenever her daughter comes home, she looks really tired and hungry.
Her daughter also became defiant when she's asked to help in the household chores.
"Daw naglain na gid siya ya. (It seems she has changed)," she added.
After reuniting with her daughter on Saturday, Villamonte said she is thankful that the people who were trying to influence and bring harm to her daughter were arrested and called on them to stop recruiting minors to join their cause.
She also urged to her fellow parents to protect their children from people trying to recruit them into the rebel movement.
"Halungan niyo inyo mga bata nga indi na madala sang mga recruiter nga wala sang mayo nga hinimu-an. Tap-ana niyo na bi ang recruiter kay wala na pulos (Protect your children from these recruiters who will not do you anything good. Stop them because what they do is nonsense)," Villamonte appealed.
The CPP-NPA is listed as a terrorist organization by the United States, the European Union, United Kingdom, Australia, Canada, New Zealand, and the Philippines. (PNA)