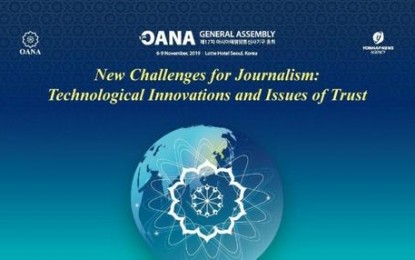 SEOUL -- Yonhap News Agency, South Korea's key newswire, on Monday said it will host a general assembly of the Organization of Asia-Pacific News Agencies (OANA), a gathering of 43 news agencies in the region, in Seoul this week.
The 17th OANA General Assembly will take place at Lotte Hotel Seoul on Nov. 7-8, bringing together representatives from 43 member-news agencies in 35 Asia-Pacific countries, including China's Xinhua News Agency, Japan's Kyodo News and Russia's Information Telegraph Agency (Itar-Tass), according to Yonhap.
OANA, which was formed in 1961 on the initiative of UNESCO to promote regional news exchanges, has held its general assembly every three years.
Yonhap News will be formally elected as the new chair of OANA at the upcoming Seoul assembly and will lead the organization for the next three years, also serving as its secretariat to prepare the agenda of various OANA meetings, deliver notices to member companies and operate the OANA website.
Yonhap will chair OANA for the first time since joining the organization more than 30 years ago, apparently reflecting the status of Yonhap News and South Korea in the global media community.
Yonhap, which was chosen to replace Azertac of Azerbaijan as new OANA chair at the 16th OANA General Assembly in 2016, said it will actively play a "media diplomacy" role by expanding the scope of exchanges and cooperation among Asia-Pacific news agencies. Yonhap played host to the OANA Summit Congress in 2010 and the 2015 executive board meeting of OANA.
The 17th general assembly will feature three panel sessions under the theme "New Challenges for Journalism: Technological Innovations and Issues of Trust."
The first panel session titled "Media environment and technological innovation in 5G era" will be held on Thursday, with Lee Jong-min, head of SK Telecom's Tech Innovation Group, and Michael Young, chief technology officer of Reuters, giving presentations.
The second and third panel sessions will be held Friday morning under the theme of technological innovations in newsrooms and trust and accountability, respectively.
OANA delegates attending the Seoul assembly will also be given opportunities to communicate with South Korea's government and business circles.
Yonhap News CEO Cho Sung-boo and representatives of OANA member companies plan to visit Cheong Wa Dae Thursday afternoon for a meeting with President Moon Jae-in. On the same day, they will have lunch with leading South Korean businesspeople.
Meanwhile, Yonhap plans to discuss expansion of bilateral news content exchanges with Xinhua, WAM of the United Arab Emirates, Tass, Kyodo, Jiji Press of Japan and Vietnam's VNA on the sidelines of the OANA General Assembly in Seoul. (Yonhap)