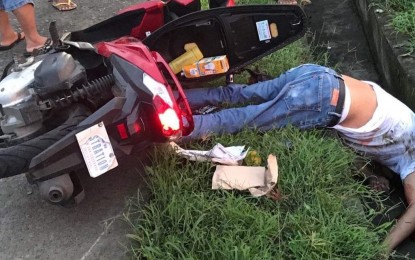 SAN ILDEFONSO, Bulacan -- Another village chief in this town was killed in an ambush by still unidentified riding in tandem suspects in Barangay Lapnit on Monday morning.
Lt. Col. Voltaire Rivera, San Ildefonso police chief, identified the victim as Barangay Lapnit chair Rosteo Salao, 67, who was gunned down around 5:50 a.m.
Initial investigation showed that the victim was riding his Honda Click motorcycle in the said village when the suspects blocked his path and shot him several times.
Rivera said the victim sustained multiple gunshot wounds and fell down into the creek side along the national road.
"The assailants immediately fled after the crime was committed and now the subject of manhunt operation of San Ildefonso police," Rivera said.
Last month, riding in tandem armed suspects killed the chief of Barangay Malipampang, also in this town.
Barangay chair Felimon Lazaro Santos, 52, was shot dead in front of a store near his house in Barangay Malipampang. A bystander identified as Richard del Rosario, of Barangay Pala-pala, also of this town, was wounded by a stray bullet.
Rivera said the assailants in the twin incident could be the same as both victims were killed at about the same time.
Based on the initial investigation, he said the police are looking into an alleged land dispute as the motive behind Salao's killing.
Town Mayor Carla Galvez-Tan, meanwhile, condemned the nonsense and brutal killing of the two village chiefs, who, she said, were both serving the people with integrity. (PNA)