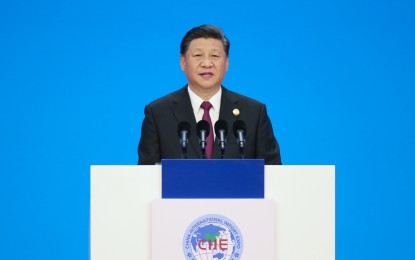 SHANGHAI, China – Chinese President Xi Jinping said here Tuesday that China would boost its imports while the government would further cut trade costs.
"China will give greater importance to import. We will continue to lower tariffs and institutional transaction costs," Xi said in his speech during the 2nd China International Import Expo (CIIE) at the National Exhibition and Convention Center (Shanghai).
The CIIE hosts foreign enterprises seeking to sell to the Chinese market. No Chinese manufacturer participates in the expo.
Xi urged businesses around the world to sell more to the Chinese market, as China continues to boost its domestic consumption.
"China has a population of 1.4 billion. Its middle-income population is the biggest in the world. The huge Chinese market points to a potential that is simply unlimited," he said in Chinese.
"The Chinese people often say, 'The world is a big place and I just want to see more of it.' What I want to say to you today is that the Chinese market is such a big one that you should all come and see what (it) has to offer," he added.
Aside from cutting trade costs, Xi said China is developing demonstration and free trade zones to promote inbound trade, both for goods and services. These trade zones include the Beijing-Tianjin-Hubei Region in the north, the Yangtze River Economic Belt, the Yangtze River Delta Region, the Guangdong-Hong Kong-Macau Greater Bay Area, and the Hainan Free Trade Zone in the south.
Xi reaffirmed that China would continue its opening up and reform policy amid threats of trade protectionism and unilateralism.
"The right solution is consultation and cooperation. All problems will be settled in the spirit of equality, mutual understanding and recommendation," he said.
"We need to join hands with each other, instead of letting go with each other's hands. We need to tear down walls and not to erect walls. We need to stand firm against protectionism and unilateralism. We need to continually bring down trade barriers, optimize global value and supply chains, and jointly foster market demand," he added.
This was echoed by French President Emmanuel Macron in his speech in the same event.
"No one wins a trade war. We have seen the consequences of trade wars. The trade tensions between major countries in the world have already hurt the global economy and its damage is being felt around the world," Macron said.
He added that countries should not resort to unilateralism and increasing tariff to safeguard their respective economies.
"Is that the way forward? I don't think so. That is not the choice of France or the European Union," Macron said. "I do not think that we resort to trade wars and protectionism at all." (PNA)