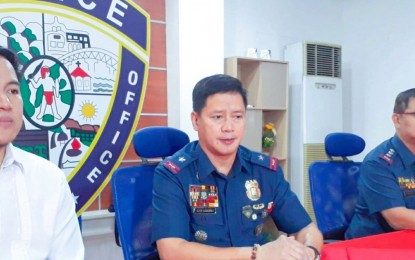 CEBU CITY –The order to relieve the heads of the Cebu City Police Office (CCPO) and Police Station 2 would erase the notion of cover-up in the investigation of the killing of Clarin, Misamis Occidental Mayor David Navarro, the top police official in Central Visayas (Region 7) said on Tuesday.
Brig. Gen. Valeriano De Leon, regional director of the Police Regional Office (PRO-7), issued the statement after he ordered the relief of Major Eduard Sanchez as chief of Police Station 2 (Abellana Police Station) here.
Last Oct. 31, De Leon also ordered the relief of CCPO Director, Col. Gemma Vinluan. Sanchez and Vinluan were instructed to report directly to the Regional Personnel Holding and Accounting Unit (RPHAU).
He, however, said Vinluan and Sanchez should not be judged based on the decision relieving them of their respective posts while the National Bureau of Investigation (NBI) in Central Visayas is investigating the killing, noting that it is just a matter of procedure.
"(To be) relieved is not a penalty, hindi ganun ang perception natin (it is not the perception), it is just to pave way for impartial investigation," he clarified.
De Leon invoked the principle of "command responsibility" in relieving Sanchez, saying that removing him from his post as chief of the police station involved in the incident is to pave way for an impartial inquiry on the death of Navarro while in police custody.
Sanchez was among five police officers who escorted Navarro on October 25 when the mayor was gunned down while on board a patrol car along M. Velez Street going to the Cebu City Prosecutor's Office.
Major Elisandro Quijano was designated by De Leon as acting police station chief, while Sanchez is reporting to RPHAU based in Camp Sergio Osmeña Sr. here.
"Major Quijano took his (Sanchez) place, (while he is) administratively relieved, para dun sa (because of) command responsibility," de Leon told Cebu media.
He said Vinluan and Sanchez can still go back to their respective positions if investigators find out that the duo could not be held responsible for the death of Navarro.
Eyewitness account showed the patrol car of Police Station 2 was blocked by a white van while traveling to the prosecutor's office for an inquest proceeding against the mayor who was accused of mauling a masseur on Oct. 19. Navarro died on the spot after the gunmen peppered him with bullets. (Fe Marie Dumaboc/PNA)