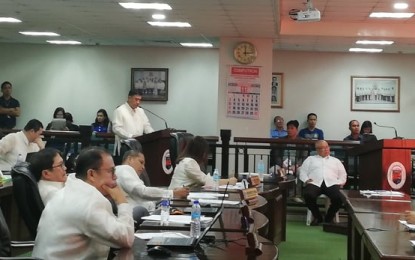 ILOILO CITY -- An Iloilo Board Member has raised his concern over the signal jamming at the Bureau of Jail Management and Penology (BJMP) - Iloilo District Jail that has been affecting residents of Nanga village, Pototan town.
In his privilege speech during the regular session of the Sangguniang Panlalawigan (Provincial Board) on Tuesday afternoon, Iloilo 3rd District Board Member Matt Palabrica said the residents of Nanga village have been enduring poor signal of cellular phones.
In an interview, Palabrica said that according to the facility, it's signal jamming will cover only a 100-meter radius.
"(But) there is no signal at 300-meter radius, which means you have to go out of the village to send messages," he said. Palabrica noted in his speech that this has been going on since June.
"(Nanga's residents) have suffered the inconvenience of not being able to adequately use their cellular phones and access the Internet due to the cellular phone jammers installed at the Iloilo District Jail, now managed by the BJMP," Palabrica said, adding that Nanga village chairperson Julie Sequio is well-aware of the concern.
He said the lack of cellphone signal has serious implications, particularly on the economic and social life of residents as they could not optimize their livelihood activities or keep in touch with families and relatives.
"Children who study and are dependent on the Internet for research also suffer. So does their social life, which now depends on the Internet for interaction through social media," he said.
Palabrica also acknowledged that the jammer is a tool to prevent crime, specifically to curb drug trade inside the jail facility.
He said, however, that law enforcers in the facility should first assure that cellular phones are banned inside prison cells.
"As a government, our prime responsibility is the welfare of our people who are law-abiding and are only pursuing the interest of their families. Law enforcement should sublimate itself to the interest of those who abide by the law. Solutions that consider the general welfare should be the top priority of all," he said.
In line with this concern, Jail Warden Chief Insp. Richard Servano, BJMP regional director Arnel Sarabillo Gongona, and National Telecommunications Commission regional director Nestor Antonio Monroy would be invited by the provincial board during its session on November 12.
Palabrica said the presence of Nanga's village chairperson is also expected. He is also considering inviting a representative of the Philippine Drug Enforcement Agency (PDEA) to shed light on the issue. (PNA)