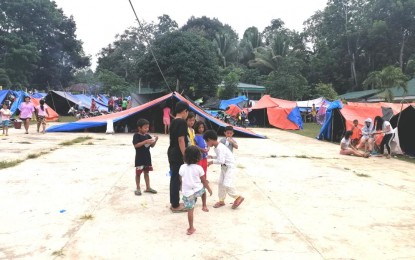 MAKILALA, North Cotabato -- Water supply scarcity and the lack of toilets remain two of the major challenges faced by the local government units affected by the series of earthquakes and aftershocks that hit parts of Mindanao on October 16, 29 and 31.
In Malasila Elementary School in Makilala, North Cotabato for instance, evacuees said they had to wait over a long queue to relieve themselves as they only share one toilet inside a classroom.

The school currently houses 646 families from Barangay Luayon and 1,749 families from Malasila.

A teacher in the school, Bedie Ratliff, said Monday the facility is being overwhelmed and fears of an impending health crisis.

The back portion of the school, she said, is already littered with human feces due to the shortage of toilets in the school.

"Foul odor can be smelled around the evacuation area," she said in an interview with the Philippine News Agency.
Ratliff said she fears poor sanitation may exacerbate the health concerns among evacuees, noting that some of them are already experiencing stomach aches.

Several cases of diarrhea among children have also been recorded, she said.

Poor sanitation is linked to transmission of diseases such as cholera, diarrhea, dysentery, hepatitis A, typhoid and polio and exacerbates stunting.

The lack of clean water and poor sanitation caused many diseases and the spread of diseases.

Acting Vice Governor Shirlyn Macasarte-Villanueva said local government units should address sanitation problems in their respective evacuation centers.

Meanwhile, the Department of Health in Region 12 has continued providing medicines at the evacuation centers. (PNA)