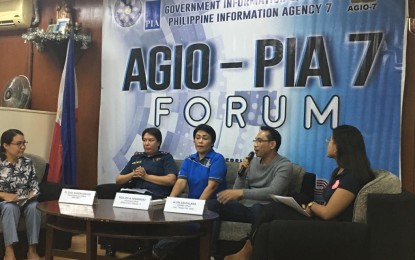 CEBU CITY – The Office of the Civil Defense (OCD) in Central Visayas on Tuesday encouraged Cebuanos to participate in the 4th quarter nationwide simultaneous earthquake drills next week which is aimed at testing the preparedness and resiliency of schools and entities in performing protocols in times of disasters.
Riza Joy Hernandez, information officer of OCD-7, said the agency has identified some pilot areas in Region 7 where the nationwide simultaneous earthquake drills can be conducted at 9 a.m. on Nov. 14.
In Cebu Province, the City of Talisay has been identified as pilot area for this quarter's drills, she said.
Hernandez, however, clarified that identifying pilot areas for the conduct of the drills does not prevent other government offices and private establishments from performing the exercise meant to instill a culture of disaster preparedness.
"Although we have identified pilot areas for the national simultaneous earthquake drill 2019, we also encouraged other schools, hospitals, high-rise buildings and condominiums, and other structures that are populous to join so that we can see how ready they are and we can test their capability to respond in the event of disaster," Hernandez said in Cebuano during the weekly forum of the Association of Government Information Officers here at the Philippine Information Agency-7 office.
Experiences and incidents during the recent series of earthquakes in Mindanao are now used as benchmark in improving protocols and response mechanisms and treatment when a disaster results in injuries to the populace, she said.
"Right now, we will be observing contingency plans in every locality to assess their actions so that the national government would know based on assessment what they can provide to improve their capabilities in performing what they learned from the drill," she added.
Alvin Santillana, disaster risk and reduction management officer of Talisay City, said Barangay Poblacion, which is the southern portal city's hub of so many schools, has now been readied for the Nov. 14 simultaneous earthquake drills.
All the schools in Talisay with around 40,000 student population will join the drills, but Santillana said only the schools in the city proper will be subjected for evaluation.
Santillana said they will fine-tune the experiences they observed during the past exercises so that they can inject new protocols based on what they learned from the series of tremors that happened in Mindanao in the past few weeks.
"They will be responding on their own. Ang amoang trabaho sa (Our job with the) DRRM is to coordinate with them and to coordinate for the drill kay kun way mag-coordinate sa (because of no one will coordinate with the) drill, ang safety ang ma-compromise (safety will be compromised)," Santillana said during the forum.
In this quarter's scenario, he said the schools are the ones that will be allowed to respond to their own "injured" students while the DRRMO of the city will be tasked to bring to the hospital any individual who will need immediate medical attention.
Hernandez said the OCD-7 coordinated with the Department of Education in the region for the synchronized conduct of the drills. (PNA)