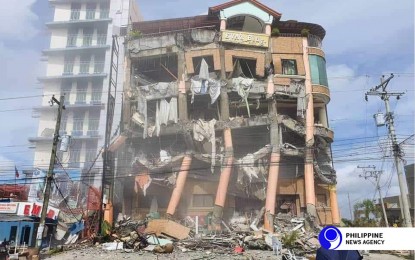 MANILA-- Australia, Austria, China and the European Union (EU) have separately offered sympathies and humanitarian aid to the people of Mindanao following the series of earthquakes that hit parts of the region last month.
Australian Ambassador Steven Robinson on Tuesday said Canberra is in solidarity with the Philippines particularly those affected by the powerful tremors.
"Our thoughts are with the people affected by the earthquakes that hit Mindanao last week. DSWD (Department of Social Welfare and Development) is deploying Australian gifted humanitarian supplies to those in need," he said.
On Saturday, the DSWD deployed AUD144,000 (approximately PHP5.4 million) worth of Australian gifted relief supplies prepositioned at their National Resource Operations Center to field offices in the Region 11 (Davao) and Region 12 (Soccsksargen).
According to the Australian embassy in Manila, the prepositioning of relief supplies is part of a broader partnership between Australia and the DSWD to enhance the agency's disaster response capabilities.
"These supplies consist of 9,440 trapals (laminated sacks) for temporary shelter and 400 solar lamps," it said.
The Austrian embassy in Manila also relayed its message of sympathy over the weekend to the families of those killed in the earthquakes.
"My deepest sympathies and heartfelt condolences to the families and friends of the victims of the recent earthquakes in Mindanao. To all those in the affected communities, please know that our thoughts and prayers are with you," Austrian Ambassador to the Philippines Bita Rasoulian said.
Meanwhile, the EU in a statement, said: "We are very saddened by the devastation and loss of life caused by the earthquake which hit Mindanao. The EU Delegation to the Philippines stands in solidarity with the Filipino people in this difficult time."
In his message on November 2, Chinese State Councilor and Foreign Minister Wang Yi, on the other hand, assured that China is willing to offer assistance to the Philippines within its capacity, "and believes that under the strong leadership of Philippine Government, the Philippine people will overcome the disaster and return to normal life at an early date".
China had earlier announced about PHP22 million in humanitarian aid to ease the effects of the earthquakes which, according to the National Disaster Risk Reduction and Management Council (NDRRMC), has already resulted in at least 37,716 families affected and more than 30,000 infrastructures damaged.
Data from NDRRMC's latest report dated November 5 showed that a total of PHP30,655,794 worth of assistance was provided by the DSWD, Department of Health, and the Office of Civil Defense to the affected families.
As of writing, the reported fatalities already reached 21 with 421 injured and two missing persons since the 6.6 magnitude earthquake rocked North Cotabato on October 29. (PNA)