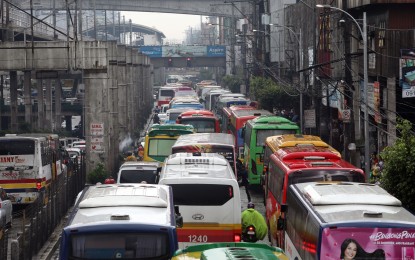 MANILA – The Metropolitan Manila Development Authority (MMDA) on Tuesday said around 1,000 public utility bus (PUB) drivers may soon have their driver's licenses suspended following their excessive and repeated violation of traffic laws.
This, following an investigation made by the MMDA which found that at least 1,700 PUB drivers have recorded a minimum of 100 traffic violations since 2006.
In a press conference, MMDA general manager Arturo "Jojo" Garcia said following the probe, the MMDA will coordinate with the Land Transportation Office (LTO) to strictly enforce Republic Act (R.A.) 4136—which calls for the automatic suspension of the driver's license of a motorist found to have made the same traffic violation within the last 12 months.
"Pag ang driver na may lisensya nagcommit ng tatlong same violation in 12 months, automatic suspended na pala ang lisensya niya (When a driver with a license commits the same violation three times in 12 months, his license is automatically suspended. That's for a) minimum one year, up to a maximum of two years," Garcia said.
Roberto Valera, LTO Field Enforcement Division chief, said excessive violators may also find their license perpetually revoked through the powers of the relevant Secretary.
"We could even revoke their driver's license perpetually if it calls for that," Valera said.
Section 27 of R. A. 4136 states that: "a decision of the (LTO) Commissioner revoking or refusing the reinstatement of a license under the provisions of this Section may be appealed to the Secretary of Public Works and Communications."
Garcia said the decision for the strict enforcement of said regulation was made following talks among Department of Transportation (DOTr) Undersecretary for Road Transport and Infrastructure Mark de Leon, LTO executive director Romeo Vera Cruz, Philippine National Police Highway Patrol Group (PNP-HPG) Traffic Enforcement Unit chief, Lt. Col. Emmanuel Tabuena, and other officials.
Garcia said their target is to suspend the licenses of 1,000 PUB drivers by 2020, or at least 100, depending on how long the deliberation process would take.
"They will know that this government is very serious in doing our job and pagbigay ng disiplina sa mga motorista (meting out discipline to motorists)," Garcia said.
The worst violator, Garcia said, has been cited for 533 traffic violations, consisting mostly of obstruction violations, disregarding traffic signs, and illegal loading/unloading since 2006.
A total of 446 of the violations have been paid, 82 of which applied for amnesty, and five unpaid violations.
"Merong PHP150, merong PHP500, merong PHP1,000. Malaki yan. Yung mga ganitong driver walang karapatan magka-lisensya 'to (Some fines were worth PHP150, there's PHP500, there's PHP1,000. That's a big sum. This kind of drivers shouldn't be given a license)," Garcia said.
He admitted that negligence occurred for such motorists to incur large amounts of violations without added penalty.
"Sa dami ng concerns, hindi na napapansin yung mga ganito. Sabi ko nga sa kanila kanina, nag-meeting kami, walang may kasalanan eh. Kung baga, hindi lang napag-tuunan ng pansin (Because of so many concerns, these things were neglected. Like what I said in a meeting, no one was at fault. Everyone just failed to give it the necessary attention)," Garcia said.
To ensure the enforcement of suspension following multiple violations, Valera said they will include the MMDA's traffic violations database with the LTO's suspension system.
"We are coordinating with MMDA, through GM Garcia, para yung huli din nila, mai-include na rin namin sa aming process of suspension (so that their apprehensions will be included in our process of suspension)," Valera said.
Garcia clarified that the 1,700 motorists found to have made excessive violations were only PUB drivers and that the MMDA has plans to also investigate excessive traffic violators among private motorists, and public utility jeepney drivers.
"Lahat ng lisensya na may huling more than three sa 2018 and 2019, pinapakuha ko na record namin and ipapasagot sa LTO. Inuna ko lang ang mga bus kasi sila madami (All license holders who have made more than three violations in 2018 and 2019, I'm asking for their records and be made accountable by the LTO. I put PUB drivers on top of the list because there are more of them)," Garcia said. (PNA)