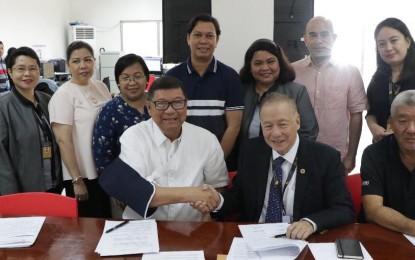 MANILA -- Over 25,000 athletes, team officials, games workforce and volunteers of the 30th Southeast Asian Games will now be covered by insurance following the partnership inked between the Philippine Sports Commission (PSC) and Standard Insurance Company Inc. on Tuesday.
PSC Chairman and Team Philippines Chef de Mission William Ramirez signed the memorandum of agreement with Standard Insurance Group Chairman Ernesto Echauz, in coordination with the Philippine Southeast Asian Games Organizing Committee (Phisgoc).
"The successful hosting of the SEA Games also involves the security of our athletes and officials, in and out of the games. We thank Standard Insurance for offering their service not only to Team Philippines, but also to all the other delegates in this SEAG," Ramirez said during the signing rites.
According to the agreement, coverage is from October 13 until December 15, 2019 to include players of the football and water polo events scheduled ahead of the official opening ceremonies on Nov. 30.
"Each covered person will have PHP300,000 insurance coverage. The declaration of covered persons shall come from Phisgoc," said Echauz, who is also the president of the Philippine Sailing Association.
Standard Insurance will cover death or any accident related injuries, which is also extended to any sport related injuries such as training or in-game injuries. Sports injuries coming from sabotage and acts of terrorism is included in the policy coverage.
"This is one benefit we wish no one needs to claim," Ramirez said.
The insurance firm tied-up with EMA-Global as its medical service provider.
The Philippines will host the SEA Games for the fourth time from Nov. 30 to Dec. 11 this year. The country hosted the regional sports meet in 1981, 1991 and 2005. (PR)