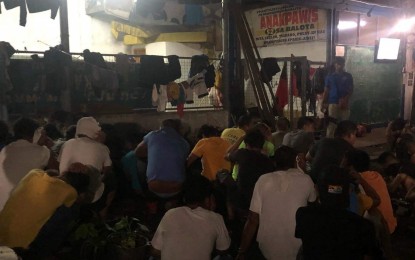 BACOLOD CITY -- Eleven of 42 suspected members of the Communist Party of the Philippines - New People's Army (CPP-NPA) who were arrested during raids in the offices of progressive groups here have been indicted on a charge of illegal possession of firearms, ammunition, and explosives.
Their indictment was stated in four separate inquest resolutions dated November 4, penned by Senior Assistant City Prosecutor Fernand Castro of the Office of the City Prosecutor, and released on Wednesday afternoon.
"After a careful examination and assiduous evaluation of the evidence on records, we find probable cause to indict the respondents," Castro said in each of the four resolutions approved by OIC-City Prosecutor Dennis Jarder.
Found with probable cause to be indicted for violation of Republic Act (RA) 10591, or the Comprehensive Firearms and Ammunition Regulation Act, are Albert dela Cerna, Karina Mae Naluis dela Cerna, Cherryl Cantero Catalogo, John Milton Lozande, Noly Lacera Rosales, Proceso Quiatzon, Mermalyn Mendieta Bito-on, Romulo Tapalla Bito-on, Mary Anne Villasica Krueger, Danilo Nacario Tabura, and Roberto Dorio Lachica.
The charge against 31 other respondents have been dismissed for lack of probable cause, and the inquest prosecutor ordered the Philippine National Police's Criminal Detection and Investigation Group to immediately release them once they receive a copy of the resolution.
Meanwhile, Albert dela Cerna, the Bito-ons, Rosales, and Quiatzon were also recommended to be charged in court for violation of RA 9516 or the Illegal Possession of Explosives.
The 11, who were arrested during the serving of search warrants in four locations occupied by progressive groups Bagong Alyansang Makabayan, Kilusang Mayo Uno, Gabriela and allied organizations last October 31, are considered by the police and the military as high-value individuals (HVIs).
In all the resolutions, Castro stated that "(b)ased on the evidence presented, we find the warrantless arrest of the respondents lawful and in accordance with Section 5, Rule 113 of Revised Rules of Criminal Procedure."
He added that the filing of the cases was well within the prescribed reglementary period.
On Wednesday afternoon, the two dela Cernas, Lozande, Rosales, Quiatzon, and Catalogo were also charged with qualified trafficking by the parents of three minors who were among those rescued during the raid in Barangay Bata. (PNA)