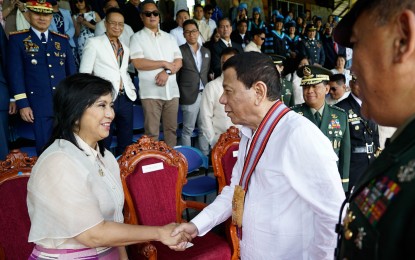 MANILA — President Rodrigo Duterte has welcomed Vice President Maria Leonor "Leni" Robredo's acceptance of his formal offer for her to co-chair the Inter-Agency Committee on Anti-Illegal Drugs (ICAD), Malacañang said on Thursday.
During the 43rd Cabinet meeting at Malacañan Palace on Wednesday night, Duterte was optimistic that Robredo would realize the importance of his administration's intensified crackdown on illegal drugs, Presidential Spokesperson Salvador Panelo said in a statement.
"The President mentioned it was good that Vice President Ma. Leonor Robredo accepted his formal offer to co-chair the Inter-Agency Committee on Anti-Illegal Drugs," the Palace official said.
On Wednesday, Robredo announced her decision to accept her designation as co-chairperson of ICAD, an anti-drug body that is mandated to ensure the implementation of all policies, laws, and issuances on the government's anti-narcotics drive.
"With the Vice President at the helm of the anti-narcotics campaign, President Duterte expects that the former would see the realities on the ground, particularly with respect to the government's position against extrajudicial or state-sponsored killings," Panelo said
Robredo's acceptance came even after her spokesperson, lawyer Barry Gutierrez, claimed that her appointment was "unclear" and "non-existent".
Robredo will lead ICAD, along with Philippine Drug Enforcement Agency (PDEA) Director General Aaron Aquino, until June 30, 2022, according to the memorandum signed by Duterte on October 31.
The memorandum also directed the PDEA, the Philippine National Police, the Dangerous Drugs Board, and all other law enforcement agencies to extend their "full assistance and cooperation" to Robredo to ensure the success of the administration's fight against illegal drugs.
Duterte was prompted to name Robredo as ICAD co-chair after the latter claimed that the government's anti-drug campaign is "obviously not working".
Robredo said she would help the administration combat illegal drugs without costing the lives of suspected drug offenders in the country.
Panelo said Duterte pinned hope that Robredo would eventually understand that "deaths occur due to the violent reactions on the part of agents of the illegal drug trade against the strict enforcement of the law".
Robredo, as co-chair of ICAD, will be given a "pro-active" role in the campaign, as she will have a hand in crafting the government's anti-drug policies and programs, as well as in the proper implementation of operations against drug offenders.
Duterte and Robredo have yet to meet to discuss her specific mandate in the administration's efforts to curb the proliferation of illegal drugs.
Malacañang assured Robredo that she will get the support she needs, saying "her success is our success". (PNA)