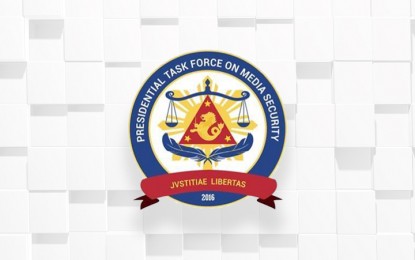 MANILA ---The Presidential Task Force on Media Security (PTFoMS) on Wednesday condemned the killing of a radio broadcaster in Dumaguete City, Negros Oriental.
"This dastardly deed will not go unpunished. Whoever is behind this senseless murder will be brought to justice," PTFoMS executive director, Undersecretary Joel Sy Egco said in a statement.
Based on the initial report by Police Maj. Jesus B. Mesahon Jr. to Egco, radio block-timer Dindo Generoso was traversing along Hibbard Avenue in Barangay Piapi, Dumaguete City on a brown Hyundai Elantra (YKU 946) on his way to his 8 a.m. radio program on Bai Radio when gunned down by unidentified assailants riding in tandem on a black motorcycle.
Generoso instantly died from the eight gunshot wounds on different parts of his body.
After the incident, the assailants fled the scene toward an unknown direction.
Police investigators Julito Deloria and Rowel Peral immediately responded to the crime together with rescue EMS personnel.
Police forensics team recovered seven empty shells of caliber .45 and a slug of unknown caliber recovered inside the victim's car.
Police authorities are now conducting follow-up investigation and pursuit operation for the possible identity of the assailants.
The body of the victim has already been brought to Silliman Medical Center.
Generoso was an anchor for development programs of the local government, including a controversial reclamation project that was halted by the DENR last week.
His radio program in Bai Radio is sponsored by the city government of Dumaguete as an extension of its public information office.
Aside from the ongoing police investigation, Egco said he was getting pieces of information from the local media.
The PTFoMS database shows that around 22 block-timers have been killed since 2003.
"Blocktimers have been particularly vulnerable because of their involvement with politicians as a whole. The Task Force calls on our various media groups and stations, and all media practitioners to take a deeper look into the practice of block timing vis-à-vis its inherent dangers," Egco said.
During the May 2016 elections, Generoso ran for the mayoralty position but lost.
The PTFoMS is closely coordinating with the Dumaguete police for a follow-up investigation to pinpoint the motives of the killing.
The task force presumes that any form of media-violence is work-related until a further investigation proves otherwise, Egco said. (PR)