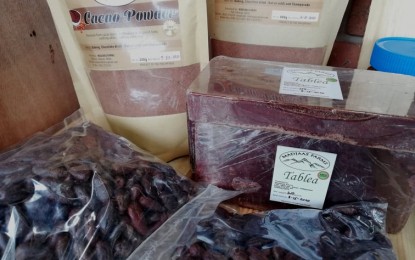 ILOILO CITY -- The Department of Agriculture (DA), together with the Panay Organic Producers Association (POPA), is aiming to produce 1.5 metric tons of cacao annually, starting 2022.
With this target, the DA has been supporting the cacao farmers in the region by establishing a cacao nursery, providing farmers with cacao seedlings, cacao grinder, and dryer, among others, said Buen Mondejar, POPA president, in an interview Thursday.
Mondejar presented to the farmers and stakeholders the regional situation of the cacao industry during the recent Regional Cacao and Coffee Expo organized by the DA and the Department of Trade and Industry (DTI) in Mandurriao District here.
"The challenge for us is starting the year 2022, the region aims to produce 1, 500 metric tons of cacao per year," he said. The province currently has a total of 1,900 hectares planted with cacao, he added.
From 2007 to 2011, data shows that the province of Aklan has the most area planted with cacao with an average of only 36.8 hectares.
The province of Iloilo, meanwhile, has the most volume of production in the same period with an average of 37.46 metric tons.
Mondejar said the Regional Cacao Council is yet to consolidate the updated data from 2011 to the present.
"The thrust of the council is really to expand the area of plantation in cacao," he said, urging the farmers to explore cacao farming.
He said cacao is the best alternative crop as some suffered from the falling prices of palay.
One hectare of the cacao plantation can give the farmers at least PHP100,000 to PHP150,000 income as dried cacao beans are sold to processors at PHP120 to PHP150 per kilogram, he added.
The peak season for cacao is from October to January while lean months are from July to September.
The intervention of the government, through the DTI, also assures a sure market for cacao products, Mondejar said.
The DTI has facilitated product development through the conduct of packaging and labeling design, skills training, technology transfer training on cacao processing, among others.
"When the farmers process their own product through the help of the DTI, their income will increase by four times," he said.
A shared service facility (SSF) in Dingle, Iloilo, through the DTI, caters processing of cacao. "Everyone can bring their beans and have it processed into tablea or chocolate bars," he said.
"We have no problem in the market since the produce here is not enough to cope with the demand in the domestic market, the export market is also huge," he said.
Mondejar was also glad as farmers have a high level of interest and awareness on cacao farming, which can assure the region in reaching the production set by 2022. (PNA)