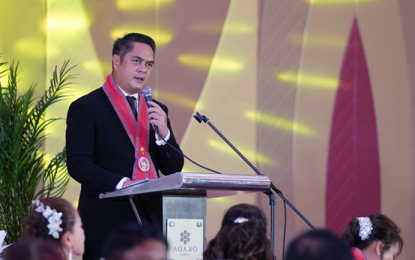 MANILA -- Police have arrested two men suspected of killing radio blocktimer Dindo Generoso in Dumaguete City, the Presidential Task Force on Media Security (PTFOMS) announced on Friday.
Presidential Communications Operations Office (PCOO) Secretary Martin Andanar, PTFoMS co-chair, said the two were nabbed at 5 p.m. on Thursday, nearly 10 hours after the gruesome murder of Generoso.
Executive director of PTFoMS, Undersecretary Joel Egco, identified Generoso's alleged killers as former police Corporal Glenn Corsame, retired personnel of the Negros Oriental Provincial Police Office (NORPPO), and a Teddy Reyes Salaw, 44, of Batinguel, Dumaguete City.
The announcement of the arrest and preparations for the filing of criminal charges against the suspects was made through a PTFOMS Facebook post on Friday.
A .45-caliber Norinco pistol with eight rounds of live ammunition, a phone containing the exchange of text messages between the suspects on the killing of Generoso, and a helmet used when they attacked the victim were seized from Corsame and Salaw.
The arrest came the same day President Rodrigo Duterte ordered authorities to conduct a "thorough" investigation into Generoso's case.
The suspects gunned down Generoso, broadcaster and blocktimer of DYEM FM Bai Radio, as he was in his Hyundai Elentra and passing Piapi village in Dumaguete City, at about 7:25 a.m. on Thursday.
Andanar said the immediate arrest of Corsame and Reyes was the result of the close coordination between Egco and the Police Regional Office in Central Visayas led by Police Brigadier General Valeriano de Leon.
Andanar lauded the efforts of the PTFoMS, the Central Visayas police, as well as the NORPPO and the Dumaguete City Police to carry out a "swift and successful" operation against the suspects.
Egco acknowledged the assistance of the Highway Patrol Group and Mitsubishi Motors in identifying the vehicle of the suspects.
The vehicle was tracked down through CCTV footage obtained by authorities. The initial results of the investigation found that the vehicle registration was under the name of a certain Tomas Alegro.
The PTFoMS received reports that the suspects have links to a "powerful" politician in the province.
Police have yet to identify the mastermind and the motive behind Generoso's murder.
"The arrest of the suspects is just the beginning of our quest to bring justice for Generoso and his family," Andanar said.
"This also shows the relentless determination of President Duterte and the PTFoMS, as well as the entire administration in addressing the threats to our media professionals and to solving all forms of violence against media, especially, killings."
Egco said the arrest was made possible through the contribution of the police officers and some media personalities who provided "useful" information that led to a "major breakthrough."
"We will continue to actively protect the rights and lives of our media professionals, and constantly seek justice for those who have been affected by these senseless acts," he said.
Andanar on Thursday guaranteed that Generoso's family would get legal assistance from the government. (PNA)