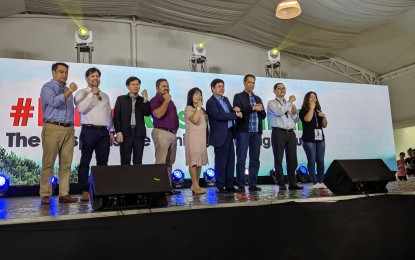 MANILA -- The Mines and Geosciences Bureau (MGB) on Friday launched its information campaign titled #MineResponsibility which seeks to change the negative public perception of the mining industry with an alternative view highlighting environmental rehabilitation and community development.
At an event in Quezon City, MGB acting director Wilfredo Moncano said the campaign aims to "recreate a clearer and more factual image" of the mining industry, as well as promote an inclusive approach in ensuring the industry's commitment to the protection of people and the environment.
Moncano said the mining industry in the Philippines is actually misunderstood, where the lack of strict regulations on legacy mines resulted in unrehabilitated land, which established the reputation of mines as environmentally destructive on the minds of Filipinos.
Department of Environment and Natural Resources (DENR) Undersecretary for Climate Change and Mining Concerns Analiza Rebuelta-Teh said public disapproval for mining went as far as pushing to ban all mines and shouldering the blame for natural disasters.
However, the accusations against the mining industry and the government for the past failures need to be addressed, as they affect the integrity of mining and the unused economic potential of resources in the ground.
"We need to confront head-on the general public's lack of in-depth understanding of the dynamics in mineral resources utilization and development. We need to confront the issues being hurled against the sector and the government by those who oppose mineral resources utilization and development in a manner that no reason is acceptable to them," Teh said.
For the part of the government, MGB director of regional office XII Felizardo Gacad Jr. said current safeguards through stringent requirements in the areas of safety and health, social development, and environmental protection prevent planned mines from repeating the mistakes of the past.
"Responsible mining should not only be responsible mining. Responsible mining should be responsive mining as well meaning, we don't only meet the minimum requirements of government but have to go beyond these minimum requirements," he said.
Contrary to the popular belief, the mining sector has also been at the forefront of environmental protection through rehabilitation of mined out areas with extensive tree planting projects and community development programs, Nickel Asia Corporation vice president for Corporate Communications Jose Baylon said.
"Because responsible mining is not only possible, it is real. It has been real in Benguet, in Rio Tuba, in Coral Bay," he said.
The mining industry in the Philippines contributed to USD4.26 billion worth of exports in minerals and mineral products in 2018, with copper, gold, and nickel ranking as the top mineral exports and employing 212,000 people. (PNA)