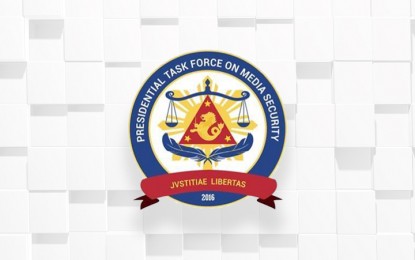 MANILA -- The manhunt is continuing for two of four alleged suspects involved in the murder of Dumaguete broadcaster and blocktimer Mercedario "Dindo" Generoso, the Presidential Task Force on Media Security (PTFoMS) said on Sunday.
PTFoMS co-chairperson, Undersecretary Joel Egco said Roger Rubio and Tomasino Aledro, the two other individuals accused in Generoso's killing, remain at large.
Rubio, a police officer who had gone absent without leave, is the alleged gunman who repeatedly shot Generoso. Aledro, meantime, is the supposed owner of the silver Mitsubishi Strada pick-up truck allegedly driven on the day of the victim's murder.
"The task of bringing justice to the victim and his family has just begun, but as usual, we will not stop until the suspects who are still at-large have been arrested and punished," Egco said in a statement.
"While Rubio and Aledro are still at-large, the Task Force is optimistic that it is only a matter of time before they are caught," said the Palace official.
Teddy Reyes Salaw and Glenn Corsame were arrested nearly 10 hours after Generoso was shot to death while he was in his Hyundai Elentra and passing Piapi village in Dumaguete City at around 7:25 a.m. on Thursday.
Salaw allegedly drove the pick-up truck used for Rubio's transfer to a waiting motorcycle, purportedly driven by Corsame, a retired police officer.
Rubio and Corsame then tailed Generoso's vehicle to perpetrate the crime.
Egco said the PTFoMS had received information that Aledro and Salaw are related by affinity.
The Philippine National Police on Friday filed murder charges against the four suspects.
Presidential Communications Operations Office Secretary Martin Andanar, co-chair of the PTFoMS, welcomed the filing of the murder case against the four accused.
Andanar said the latest development "solidified the administration's commitment to stamp out impunity against members of the media."
"With the series of investigations and the filing of charges against suspects in the murders of our colleagues, regardless of motive, we can say that impunity is already a thing of the past. Today, we relentlessly run after and hold to account the perpetrators, regardless of who or what they are," Andanar said.
Generoso worked at dyEM FM Bai Radio as an anchor for development programs of the local government, including a controversial reclamation project that was halted by the Department of Environment and Natural Resources last week.
Egco noted that once Generoso's case has been established to be "media work-related," the prosecutor handling the case will automatically assume the role as Administrative Order 1 (AO1) prosecutor.
Justice Secretary Menardo Guevarra, who also serves as PTFoMS co-chairperson, has appointed around 350 prosecutors nationwide as concurrent AO1 prosecutors tasked to handle verified media killing cases. (PNA)