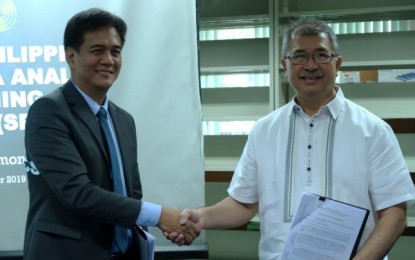 MANILA -- The Department of Science and Technology (DOST), in partnership with the Development Academy of the Philippines (DAP), will train 30,000 individuals on data science and analytics, its chief said on Monday.
Science and Technology Secretary Fortunato dela Peña said the program would run for three years, with a total budget of PHP50.84 million.
For the first year of the program, PHP16.67 million was allocated.
"We have designated DAP in carrying out this training to build competency in data analytics," he said in an interview, adding that the DOST and DAP signed partnership for this program last week.
Dubbed as the "Smarter Philippines Through Data Analytics R&D, Training and Adoption" (SPARTA), this program will be done online, according to dela Peña.
He added that those who will undergo the program are people from the government, academe, and those from the business process outsourcing (BPO) industry.
"The BPO industry might need retraining due to AI's (artificial intelligence's) (apparent) threat to lessen BPO jobs," dela Peña said.
He has also tasked DAP to choose the trainees.
"I also want other government agencies to at least have a substantial background (in data analytics)," dela Pena said.
The program would start as soon as the DOST releases the fund.
"We are currently processing the papers for the release of the fund. Hopefully, we could start the program before the yearend," dela Peña said. (PNA)