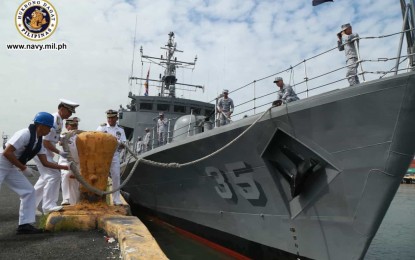 MANILA -- The BRP Emilio Jacinto (PS-35) is now more suitable and capable of patrolling Western Mindanao waters with the upgrade of as its fire-control system.
Philippine Navy (PN) public affairs office chief, Lt. Commander Maria Christina Roxas, said the upgrade of the fire-control system would allow more efficient operation and firing of the vessel's Oto Melara 76mm auto-cannon and secondary 25mm gun, making it more capable of dealing with surface threats.
She, however, declined to elaborate the specific upgrades citing security reasons.
A fire-control system is designed to assist a ranged weapon system in targeting, tracking and hitting its target.
The BRP Emilio Jacinto is the lead ship of the three Jacinto-class patrol vessels now in service in the PN and considered one of its most modern surface combatants after the larger Gregorio Del Pilar-class offshore patrol vessels.
Upgrade to its fire-control system is part of the PN's ongoing efforts to modernize the ship which is called the "JCPV Phase 3", Roxas added.
All three ships of the Jacinto-class patrol vessels are former Peacock-class vessels of the Royal Navy were acquired by the PN in 1997.
These ships are capable of speeds up to 25 knots and have a gross tonnage of 712 tons. (PNA)