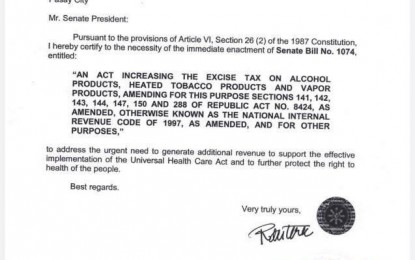 MANILA -- President Rodrigo Duterte has certified as urgent a measure imposing higher taxes on alcohol products and electronic cigarettes.
Duterte certified as urgent Senate Bill No. 1074 on Tuesday, through a letter, addressed to Senate President Vicente Sotto. A copy of the letter was sent to the media from the Office of the Senate President.
The Senate bill seeks to raise excise taxes on alcoholic beverages and electronic cigarettes, including heated tobacco products and vapes.
Duterte, in his letter, said a law is needed to "address the urgent need to generate additional revenue to support the effective implementation of the Universal Health Care (UHC) Act and to further protect the right to health of the people."
The Department of Finance (DOF) has estimated that SB 1074 would generate PHP47.9 billion for the UHC program next year, and a total of PHP356.9 billion for the program over the next five years.
With the certification of urgency, there is no need to wait for the three-day period between the second and third readings before it gets passed.
SB 1074, authored by Senator Pia Cayetano, seeks to increase taxes on alcohol products through the following rate adjustments: Distilled spirits will be imposed an ad valorem tax of 20 percent on the net retail price per proof and a specific tax of PHP90 per proof liter on the first year of its implementation, which will be increased by PHP10 every year until the fourth year. The specific tax rate will increase by 10 percent every year thereafter.
For fermented liquor (beer) and alcopops, SB 1074 seeks a specific tax rate of PHP45 per liter on Year 1, increasing by PHP10 every year until Year 4. The specific tax rate will increase by 10 percent every year thereafter.
Wine products will be slapped with a specific tax of PHP600 per liter for sparkling wines and PHP43 per liter for still and carbonated wines. These rates will increase by 10 percent every year thereafter.
For e-cigarettes under the heat-not-burn product category, Cayetano proposed to increase the current rates of PHP10 per pack of 20 to PHP45 per pack on Year 1 to be at parity with regular cigarettes.
For vapor products, there will be a distinction between salt nicotine and freebase. From PHP10 per 10mL or less, salt nicotine will increase to PHP45 per mL, while freebase will increase to PHP45 per 10 mL on Year 1. These rates will increase by PHP5 every year until Year 4 then 5 percent every year thereafter. (PNA)