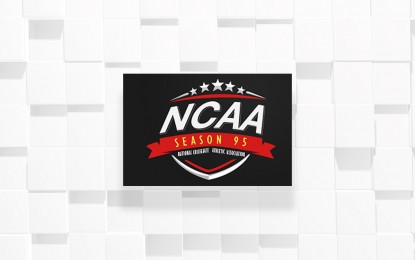 MANILA — The Letran Knights put to an end San Beda Red Lions' long winning streak that dated back to last year's National Collegiate Athletic Association season with a 65-64 win in Game 1 of the men's basketball finals at the Mall of Asia (MOA) Arena in Pasay City on Tuesday night.
The Knights rallied back from a late four-point deficit to go 1-0 up against their archrivals, the Red Lions.
Facing a 56-60 deficit with less than five minutes left, Letran went on a 7-0 run sparked by triples from Fran Yu and Jerrick Balanza to take a 63-60 lead.
The game remained tight in the dying seconds, and San Beda still had a crack at stealing Game 1 when newly-crowned Most Valuable Player Calvin Oftana heaved an open three-pointer with his team down by one.
But Oftana missed, and Yu grabbed the crucial rebound with 2.4 seconds left.
Yu, who missed the first free throw off a foul, intentionally missed his second charity, and the Red Lions could not even secure the rebound as time expired.
Bonbon Batiller scored 12 points, five rebounds, and two assists for Letran, which can sweep San Beda for the championship in Game 2 of the best-of-three series on Friday night back at the MOA Arena.
Balanza and Yu each added 10 markers.
Evan Nelle made 20 points, seven boards, and one dime for the Red Lions, who need to win Game 2 to force a rubber match next Tuesday.
The Scores:
LETRAN 65 -- Batiller 12, Balanza 10, Yu 10, Ambohot 9, Muyang 7, Reyson 7, Mina 3, Ular 3, Caralipio 2, Sangalang 2, Balagasay 0, Olivario 0.
SAN BEDA 64 -- Nelle 20, Canlas 11, Oftana 11, Tankoua 7, Soberano 6, Bahio 4, Doliguez 3, Etrata 2, Abuda 0, Cuntapay 0, Alfaro 0.
Quarters: 17-18, 28-32, 47-44, 65-64. (PNA)