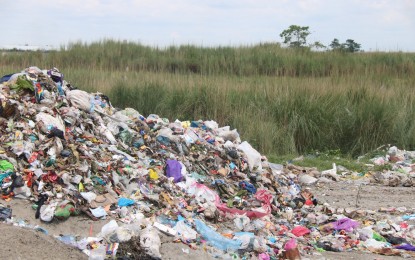 CITY OF SAN FERNANDO, Pampanga -- The Department of Environment and Natural Resources (DENR) shut down on Tuesday four illegally operating dumpsites in this province.
Benny Antiporda, DENR Undersecretary for Solid Waste Management and Local Government Unit Concerns, issued the cease and desist order (CDO) against the City of San Fernando, and municipal governments of Bacolor and Porac for operating the illegal dumpsites.
The open dumpsites were located at Lara village in City of San Fernando, Maliwalo in Bacolor town, and barangays San Jose Matli and Matli Dos, both in the town of Porac.
"Poor waste management at dumpsites poses serious threats not just to the environment, but also to public health. That is why, we are taking our messaging to uphold proper waste disposal to a higher level to encourage communities, especially our local government units, to not make open fields as repository areas for wastes," he said.
Under the law, establishment and maintenance of an open dumpsite is strictly prohibited.
The DENR found mixed garbage of plastics, diapers, styrofoam, and even hospital wastes like syringe and tube in the dumpsite.
Antiporda said the DENR is keeping an eye on the operations of illegal dumpsites, since it bears a serious impact on the ongoing cleanup and rehabilitation of Manila Bay.
"We cannot clean Manila Bay if we allow this," he said, pointing out that dumpsites have leachates which could flow to nearby rivers and bodies of water.
The DENR also summoned the local chief executives and their respective municipal councils to explain the operations of the illegal dumpsite and to present their immediate plan of action for the closure and rehabilitation of these garbage dumps.
"They [municipalities] were given seven days to explain the illegal operation of the dumpsite, as supported by the necessary documents, clearances and other permits issued pertaining to the implementation of the disposal site," he said.
Republic Act 9003, or the Ecological Solid Waste Management Act of 2000, provides that no open dumps shall be established and operated, nor any practice or disposal of solid waste by any person, including LGUs, which constitutes the use of open dumps for solid wastes, is allowed.
Any person found violating the law shall be fined with PHP500,000 plus an amount not less than 5 percent but not more than 10 percent of its net annual income during the year.
But if local government officials and officials of a national agency are found guilty of violating the law, they can be charged administratively in accordance with Republic Act 7160 or the Local Government Code.
Meanwhile, Mayor Edwin Santos denied the existence of an open dumpsite in the City of San Fernando.
"We are not operating an open dumpsite. We only have the City Transfer Station," Santiago said in a statement following the issuance of a cease and desist order against the operation of the facility located at Lara village here.
City Environment and Natural Resources Officer Regina Rodriguez also said no dumpsite is operating in the city.
Rodriguez said the former dumpsite has been converted to a transfer station when it was rehabilitated through the city's greening program.
"We are fully implementing RA 9003. From the garbage collection, to the sorting and transferring, our system works. We are in partnership with the Metro Clark Waste Management Corporation which collects the garbage every day from our transfer station. We will never tolerate the existence of an open dumpsite here in San Fernando," he said.
Rodriguez added that the transfer station was reviewed and approved by the DENR Region 3 pursuant to the Department's Administrative Order 9, series of 2006, or the "General Guidelines in the Closure and Rehabilitation of Open Dumpsite and Controlled Dump Facilities." (PNA)