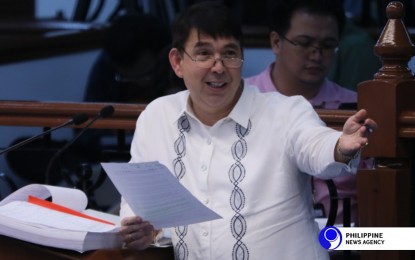 MANILA – Senate President Pro Tempore Ralph Recto on Thursday urged the Department of Environment and Natural Resources (DENR) to provide proof of the planting of 1.807 billion trees over the past eight years through the National Greening Program.
In a statement, Recto asked the DENR for proof of the actual greenery considering that the tree planting program is one of the "very few" programs that will be granted with almost a 100 percent budget increase under the proposed 2020 national budget, from the current PHP2.6 billion to PHP5.15 billion.
"Budgets for health, the PGH, college scholarships are like trees being cut by chainsaws. But the one for NGP has assumed the status of a protected species. But before the Senate approves it, some throwback is needed," Recto said.
The lawmaker noted that the NGP's total budget is PHP38.9 billion from 2011 to 2019, wherein a total of 1.807 billion trees should have been planted in 2.141 million hectares of land until December 2019.
"Two million hectares of land reforested represents one in 15 hectares of the total land area of the country. Two million hectares is 32 times Metro Manila's land area. Two million hectares is also four times the size of Cebu island. If NGP is to be believed, ganito na kalawak ang tinamnan nila ng puno (this is the vastness of the trees that they should have planted)," Recto said.
"After counting the number of trees planted, it is time for the DENR to show us the forest. The carpet of green from sea to shining sea. Ilabas na ang NGP map (Bring out the NGP map). The proof of the planting is in the photos. Ipakita sa aerial maps, before and after photos, ang resulta ng isang PHP38.9-billion project (Show us the aerial maps, before and after photos, showing the result of a PHP38.9-billion project)," he added.
He said tree planting is a climate change resilience measure, and such a program aims to boost the forest stock of the country so it can absorb carbon dioxide while providing livelihood and enriching the country's biodiversity.
"What we have been shown so far is a forest of newsprint of reports and vouchers of spending on NGP. Show us the actual greenery," he said. (PNA)