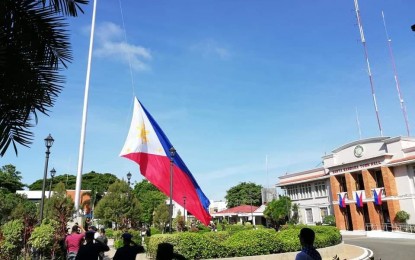 ILOILO CITY -- The Iloilo province on Friday honored its local hero, Gen. Martin Teofilo Delgado, who led the "Cry of Santa Barbara" and the first to raise the Philippine flag outside of Luzon on Nov. 17, 1898.
The town of Santa Barabara is keeping the history alive as it again hosted a series of activities for its 121st year of the "Cry of Santa Barbara".
In an interview, Jose Nereo Lujan, resident historian of Iloilo province, cited the contributions of Delgado in attaining independence, saying the first-raising of the Philippine flag outside Luzon took place five months after Gen. Emilio Aguinaldo declared independence from Spain in Kawit, Cavite on June 12, 1898.
"It marked the day when the Revolutionary Government of the Visayas was organized and formally inaugurated in Santa Barbara with Martin Delgado as leader of the revolutionaries," Lujan said.
"Three weeks earlier, Delgado seized control of the municipal building of Santa Barbara and declared support for the revolution in Luzon. His move surprised the Spanish authorities who had, four months earlier, appointed him as captain and commander of the Volunteer Militia in Santa Barbara," he added.
Delgado was born in Santa Barbara town on Nov. 11, 1858, to a rich and aristocratic Spanish mestizo family.
Lujan said Delgado was educated at Santa Barbara Parochial School, Seminario de San Vicente Ferrer in this city's Jaro district, and at the Ateneo Municipal in Manila.
After earning his diploma as a school teacher, Delgado returned to his hometown and taught in a public school for some time.
"At the age of 25, he was chosen teniente mayor, later made capital municipal and juez de paz, which positions he held with distinction. Shortly after Commodore George Dewey had smashed the Spanish fleet at Manila Bay on May 1, 1898, and blockaded the capital, the hard-pressed Spanish colonial government organized Filipino volunteer militia in the different regions of the Philippines," Lujan said.
The Politico-Military Governor of Iloilo Province Gen. Ricardo Monet appointed Delgado as captain and commander of the voluntarios in Santa Barbara.
"Delgado, however, turned around and joined the revolution against Spain," Lujan said.
Meanwhile, to honor his heroism, the town of Santa Barabara will be holding a program reenacting Delgado's raising of the Philippine flag on Sunday.
Before the Sunday's program, the town commemorated the event through tree-planting, sound battle, quiz bee, and miniature heritage houses exhibit, among others.
This year's commemoration carries the theme: "Paghanduraw kag Pagdayaw kang Panublion: Yabi sa Buasdamlag nga Madinalag-on" (Reminiscing and Honoring Heritage: Key to a Successful Future). (PNA)