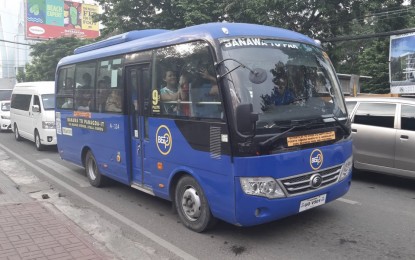 TALISAY CITY, Cebu – Mayor Anthony Gerald Gullas on Tuesday said he is opening here routes for air-conditioned public utility vehicles plying under the public utility vehicle (PUV) modernization program of the Department of Transportation (DOTr).
On Monday, Gullas met with operators of BEEP, a transport group that deploys a fleet of modern PUVs in certain routes in Metro Cebu, and discussed the possibility of opening Talisay for their units to load and unload passengers.
"I mentioned all the suggestions all of you commented and sent through private messages in my page and I brought it up with the people behind BEEP," he said.
Gullas said he suggested to the transport operator the routes from Barangay Linao to Parkmall in Mandaue City, traversing through the South Road Properties (SRP) and passing by SM City Cebu and Robinson's Galleria in Cebu City.
He added the possible putting up of routes from Wilcon in Barangay Lawaan II passing through N. Bacalso Avenue but foregoing the SM City Cebu area as this will become a redundant route.
Gullas suggested the Wilcon-Ayala-IT Park route, which, he said, has received a nod from the modern PUV operator.
"So the next question is where do we go from here? And what problems do we face in making this a reality?" he asked.
The mayor said he will ask the city council to pass a resolution, endorsing the said routes.
He said the final say for the suggested routes would come from the Land Transportation Franchising and Regulatory Board (LTFRB).
"I would also need to talk to the mayors of Cebu and Mandaue on their stand regarding these new routes entering their respective jurisdictions. We have to understand they have to look at the traffic situation in their cities, as well," Gullas said.
The provincial government, he said, also needs to pass a resolution, endorsing those routes he suggested with the BEEP representatives during their meeting.
"If passed in the province, LTFRB will then use these respective resolutions to ask the Central office to conduct bidding on who can serve those respective routes that we have endorsed. Actually, BEEP said they will enter the bidding and dili pa gani sure sila makadaog (they are not sure if they win). But that's why there is a bidding in the first place to ensure equitable chances for all," he added.
Apart from Gullas, Jonathan Tumulak, head of the City Traffic Operations and Development Administration and City Council committee on traffic chair Ferdie Rabaya, attended the meeting with the transport group. (PNA)