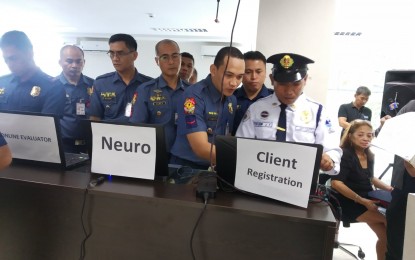 MANILA -- In compliance with the government's ease of doing business (EODB) policy, the Philippine National Police-Civil Security Group (PNP-CSG) on Wednesday launched the online application for security guards' licenses.
CSG director, Maj. Gen. Roberto Fajardo said the launching of an online License to Exercise Security Profession (LESP), a web-based system, aims at curbing long lines of processing of LESP for those in the security profession and lessening corruption.
"We are launching the LESP online we are hoping to be able to lessen the burden of the security guards, to avoid the non-appearance system which will be eradicated by the continuous development of additional modules being undertaken by the PNP's ITMS (Information Technology Management Service) programmer. Yes, there will be vulnerability but check and balance will be on our side as we have computer security graduates in our technical," Fajardo told applicants during the launch in Camp Crame, Quezon City.
The Firearms and Explosives Office-(FEO) and Supervisory Office for Security and Investigative Agency (SOSIA) is under the supervision of CSG.
Fajardo said the online system developed by the PNP will showcase bright ideas of the personnel and officers of ITMS and CSG.
Meanwhile, Brig. Gen. Samuel Rodriguez of the Directorate for Information and Communications Technology (DICTM) said the applicants must have an e-mail address.
"We (automated) the process. The applicant is the only one who has access to his/her personal information. They just need to scan the documents and through the system, the head office through its database will see if the requirements are complete or if the document is fake. We will able to verify the veracity of the documents presented. There is less human intervention so it prevents corruption," Rodriguez said.
Rodriguez added that once all requirements are met and internet connection is strong, the applications can be verified and processed within 24 hours so there will be no need to issue temporary licenses.
Fajardo said he is determined to deter, if not stop, the corruption in CSG, SOSIA and FEO in line with the directive of the President to further streamline the processing of government transactions to a minimum of three working days.
"Tough times are for us to get tougher and not use the current climate as a negative block but rather an energizing springboard for new ideas with our new system," he said.
Earlier, Fajardo ordered the relief of 40 police officers for alleged involvement in corruption.
Fajardo said he implemented the reorganization following name-calling such as "Police na Fixer" for police officers and "Non-Uniformed Fixer" for civilian employees.
He reminded his personnel in the frontline desk to remain humble and approachable to all clientele and stakeholders and "always serve with a smile". (PNA)