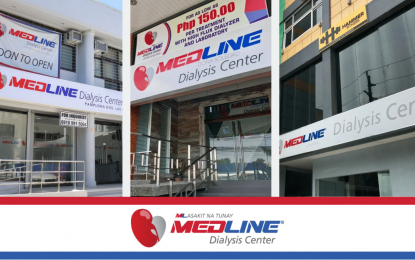 MANILA -- Pioneering dialysis chain operator MedLine has secured funding from ARQCapital for the establishment of stand-alone dialysis centers in key areas in the country, giving Filipinos better access to affordable dialysis treatment.
Kidney-related diseases are consistently among the top 10 most common causes of death in South East Asia.
Chronic kidney disease regresses toward end-stage renal disease (ESRD) which can be described by the necessity to perform life-saving dialysis or kidney transplantation, although the issue with the latter is that there is a shortage of donors.
Worldwide, the number of patients receiving renal replacement therapy (RRT) was estimated at more than 1.4 million cases with incidence growing at approximately 8 percent annually.
In the Philippines, this number is even greater. As of 2018, it is estimated that the number of cases of kidney diseases are increasing at a rate of 10 percent to 15 percent each year.
However, it is also estimated that only two out of three patients diagnosed with ESRD are going through dialysis.
This leaves a huge portion of patients with this illness in desperate need of proper treatment for their condition.
There are several reasons as to why it can be difficult for patients with ESRD to receive treatment.
One of the biggest issues is the cost related to medical expenses.
The average cost of a hemodialysis session in the Philippines is about PHP4,500.
Given that the recommended frequency of sessions per week is three times, then the total amount of expenses for a dialysis patient is PHP13,500 per week – a large expense for the average Filipino.
Going through dialysis thrice a week roughly equates to 156 sessions per year per patient.
Of this number, PhilHealth sponsors 90 sessions, while certain government agencies, like the Department of Social Welfare and Development (DSWD) and the Philippine Charity Sweepstakes Office (PCSO), help in subsidizing treatment costs. Most patients incur out of pocket expenses, hence the need for low-cost hemodialysis facilities.
Another reason why a large number of ESRD patients are unable to receive medical care is the shortage of dialysis centers throughout the country.
People with this disease that live in remote locations often have great difficulty accessing low-cost dialysis centers where they can get proper treatment.
As a result, their health conditions inevitably become worse, therefore more accessible and affordable dialysis centers need to be established throughout the country.
This is exactly why MedLine Dialysis Center Franchising has been aggressively building corporate branches and promoting their franchising opportunity.
Brothers Alexander and Sonny Lim established MedLine in 2015, with the goal of becoming the leader in the fast-growing but highly fragmented USD300-million Philippine hemodialysis market.
To grow faster and make affordable dialysis available across the country, the group partnered with Francorp to design the first dialysis franchise program in the Philippines.
Since 2018, the brand has been adding an average of one to two new franchises every month and is planning to add 20 franchises over the coming 12 months, in locations such as Baguio, Cavite, Laguna, Batangas, Cebu, Davao and Cagayan de Oro.
ARQCapital, meanwhile, was established in 2014 and has since become a leading boutique investment firm focused on providing growth capital to promising entrepreneurs and small and medium enterprises (SMEs) in the Philippines in key sectors such as food and agriculture, consumer, social infrastructure, and financial services. (PR)