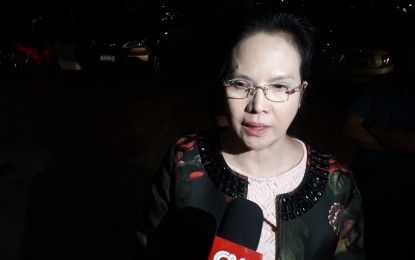 MANILA -- The Public Attorney's Office (PAO) on Friday said it has completed autopsies on 149 persons who died after receiving shots of then experimental dengue vaccine Dengvaxia.
PAO chief Persida Acosta said the latest victim was 13-year-old girl Shekina Venice Arciaga from Quezon City. The child's remains underwent post mortem examination on Thursday.
Arciaga died last October 28 after suffering from severe dengue despite getting shots of the dengue vaccine.
"Not one but three doses of Dengvaxia ang (binigay sa) bata (The child got not just one but three doses of Dengvaxia)," Acosta said.
Acosta learned that Arciaga told her mother "Nanay bakit sabi nila hindi ako magkaka-dengue. Bakit nagka-dengue ako? (Mom, they told me I will not get dengue. But why did I get dengue?)."
Acosta said there are other victims who died but their respective families were either hesitant to file suits or have settled with the PHP50,000 given to them by the government as support.
On Monday, the PAO, on behalf of the families of the victims, filed six more complaints before the Department of Justice (DOJ) for the deaths of six schoolchildren-- Renelyn Avellanosa, Psalm Dioquino, Lalaine Laylay, Levie Losanga, Theresa Romano, and Lennon Carl Ribo-- making a total of 55 complaints which have been filed by the PAO concerning 54 persons who died and one child who survived after getting shots of Dengvaxia. (PNA)