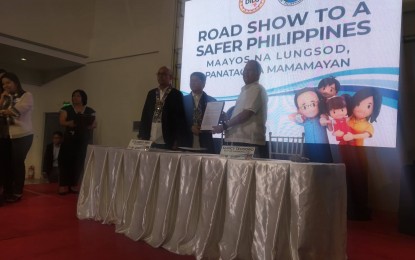 MANILA -- The Department of the Interior and Local Government (DILG) formally launched on Friday the "Safe Philippines Project" in Marikina City as part of government efforts to reduce crime rate and improve emergency response time through the use of state-of-the-art technology.
The program is a crime prevention measure that utilizes high-definition and advanced closed-circuit television (CCTV) cameras to deter the occurrence of crimes, arrest criminals, and improve emergency response time.
DILG Secretary Eduardo Año said the project will upgrade the 911 emergency system of the DILG-Philippine National Police (PNP) and will be used to improve public safety, evidence collection in the event of criminal activities, incident prevention measures for disaster-related mitigation and response, and police and fire emergency response in addressing traffic and criminal incidents.
"A similar system is in place in many cities in the world especially in large metropolitan cities like Metro Manila. It's about time we have a similar system in our country," the DILG chief said in a statement
"Under this project, we can reduce crime by 15 percent and improve response time by 25 percent," he said.
The city of Marikina, known for having disciplined citizens, has been chosen by the DILG as the pilot city for the project.
Marikina Mayor Marcelino Teodoro said that by instilling the culture of discipline and safety among its residents, the local government earned the people's unwavering support to its projects and programs.
"Based on our experience here in Marikina, discipline and safety equate to people's support. This is the Marikina way of attaining and sustaining peace and order in our community," Teodoro said.
The mayor thanked Año for choosing the city as the pilot area for the promising project.
"We would like to express our sincerest gratitude to the DILG for choosing Marikina City as the pilot area for this benchmark project that will boost our capability in maintaining the peace and order in our city," Teodoro said.
"We expect that Marikina will highly benefit with the project and will be at par in terms of safety and security. With expected lower crime rate, a safe and secured environment is an important factor in fostering investment and economic growth and more investors will be enticed to do business in Marikina," he added.
Marikina City is the first city in Metro Manila to benchmark the Safe PH Project.
Metro Manila was identified as the pilot area for the project due to its dense population. Davao City, on the other hand, was chosen to complement the monitoring system already in place in the city.
The DILG, through this project, intends to provide a bedrock strategy by introducing a smart solution and system integration to combat crime and emergency management and disaster mitigation in order to make people safe.
Marikina City will receive the equipment for their command center for its Rescue 161, Office of Public Safety & Security, Philippine National Police, Bureau of Fire Protection such as computers with access to computer-aided dispatch system, digital info display (video wall), conference room equipped with high definition teleconference endpoint, 234 high definition IP cameras, 300 IP cameras, 300 digital handsets dedicated to public safety, and 12 units of one-key emergency button devices.
Teodoro said at least 234 cameras will be installed to around 80 predetermined locations in Marikina.
According to the mayor, the locations where the CCTVs will be installed were determined based on three factors.
"The factors that we took into consideration where there is prevalence of crime; traffic situations, and flood and fire-prone areas. Mostly, the monitoring cameras will be placed at major roads, but we will also install them in communities.
"With more eyes to monitor incidents in the city in real-time, we can immediately deploy policemen or emergency response team/s to address criminality, traffic, fire, or any untoward incidents. Constant monitoring can also pre-empt crime to occur as criminals will surely think twice as our law enforcement personnel can arrest them quickly," he added,
The Safe Philippines Project Phase l is a joint project between the Philippine government and the People's Republic of China.
Under its Phase I, the DILG will provide the 16 local government units (LGUs) in Metro Manila and Davao City with integrated operations and command centers, as well as a remote back-up data center.
The China International Telecommunication Construction Corporation (CITCC), the contractor of the project, will provide the camera surveillance system to be used for the "efficient management of public order, security and safety" in the country.
State-of-the-art or high definition IP surveillance cameras, intelligent video analytics such as facial and plate recognition; video content search and synopsis; integrated critical communication system; will be used in the project.
Earlier, Año assured the public that they will take necessary measures, such as installing protocols and standard operating procedures to protect data stored in the CCTV system.
"The DILG will install the necessary firewalls to protect the system from hackers and other threats. This will be installed by the DILG and funded by our government," he said.
"The public also doesn't have to worry about data breaches in the project as there will be no storage of classified data or information inimical to national security in the CCTV system," Año said. (PNA)