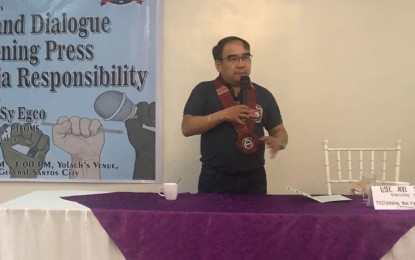 GENERAL SANTOS CITY -- The relentless quest for justice for the victims of the Nov. 23, 2009 gruesome Maguindanao massacre should continue beyond the expected promulgation of judgment next month against the principal suspects in the killings.
Undersecretary Joel Sy Egco, executive director of the Presidential Task Force on Media Security (PTFoMS), issued the call here on Saturday as he joined the commemoration of the 10th anniversary of the massacre.
He said the families of the 58 victims that included 32 journalists, will be getting "partial justice" once the decision is handed down by Quezon City Regional Trial Court Branch 221 Judge Jocelyn Solis-Reyes, on or before December 20.
Egco said many of the accused remain at-large and have not yet been presented to the court in the last 10 years of the trial.
"Based on our records, 80 of the 197 accused are still out there," he said in a forum here organized by the Socsargen Press Club.
He said PTFoMS has been coordinating and regularly getting updates from law enforcement units regarding the continuing operations against the other massacre suspects.
The promulgation of judgment next month will involve the accused masterminds of the massacre led by brothers former Datu Unsay, Maguindanao Mayor Andal Ampatuan Jr. and former Autonomous Region in Muslim Mindanao governor Zaldy Ampatuan.
The family's patriarch, the late Maguindanao Gov. Andal Sr., was also among the principal suspects but died in detention in July 2015.
The suspects were charged with multiple murders for planning and direct participation in the massacre in Sitio Masalay, Barangay Salman in Ampatuan town, Maguindanao.
Egco believes that the principal suspects will be convicted of the killings on the strength of the pieces of evidence presented by the prosecution, especially the accounts of 192 witnesses.
"Justice is already within our reach. I believe this is the last delay," he said, referring to the one month extension sought by Reyes for the release of the verdict.
He said the decision could come earlier than Dec. 20 since the courts will already have their Christmas break by then.
Before attending the forum here, Egco joined Maguindanao Rep. Esmael "Toto" Mangudadatu, other families of the massacre victims and media workers in a visit at the site of the killings on Saturday morning.
After the forum, a mass and candle-lighting was held at the Forest Lake Memorial Park here where 12 of the slain journalists from the city were buried side-by-side.
Mangudadatu's wife, Genalyn, and several other relatives were among those killed in the massacre.
A convoy of Mangudadatu's relatives, accompanied by journalists, were on their way then to the Commission on Elections provincial office in Shariff Aguak Maguindanao to file his certificate of candidacy for governor when they were stopped near the center of Ampatuan town, herded to a hilly portion and brutally killed.
The incident had been described as the worst case of election-related violence and the single deadliest attack against Filipino media workers. (PNA)