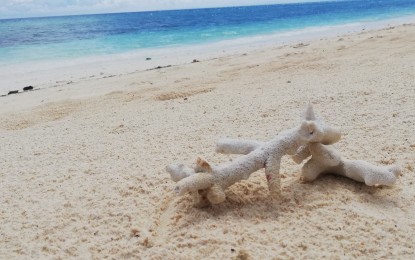 MANILA -- While its arrivals cannot rival Boracay's yet, Carabao Island is striving to build its character as an up-and-coming tourist destination that can live up to the beauty of the world-famous resort island, offering a variety of exciting activities minus the crowd.
The entire island, locally known as Hambil under the administration of San Jose, Romblon spans about 2,205 hectares featuring packets of secluded white-sand beaches and limestone formation that doubles as an entryway to its otherworldly caves.
"Our vision here in Isla de Carabao, while we cannot compete with Boracay, we strive hard to improve the island and if possible best Boracay on development and preparation of the island (for the influx of tourists)," San Jose Mayor Ronnie Samson told the Philippine News Agency during the Carabao Island leg of the Department of Tourism (DOT) media familiarization tour in Romblon last week.
The fate of Boracay apparently served as a lesson for the coastal town they increased their push to develop a tourism industry that is sustainable. Among the municipality's efforts include strong implementation of environmental laws and the management of sewerage in the island.
"Kung ano man ang nangyari sa Boracay, iyon ang naging rason kung bakit kami nagtulong-tulong. Hindi namin hahayaan na mangyari iyon sa amin (What happened in Boracay was the reason we worked hand-in-hand. We won't let what happened to them happen here)," said Lealyn Pablo, San Jose tourism officer, referring to the six-month closure of the world-famous Boracay last year.
In the first quarter of 2019 alone, tourist arrivals to the island municipality already reached 30,000 visitors breaching the 17,000 tourists recorded in 2018.
'Potentials seen'
While it has not established itself as a buzzword in global travel yet, Carabao Island is ready to provide high-quality accommodations to both domestic and foreign tourists, keeping up with other destinations that offer both tranquility and luxury.
Just this year, a new cliff resort was launched in the town aptly named as Oceans Edge.
The new luxury boutique resort, a destination by itself, draws inspiration from the rawness of the island with its cogon-roofed villas blending fittingly with its natural surroundings. The breathtaking site accentuates a 180-degree panoramic view of the ocean with the stunning sunset as the backdrop.
Originally, the resort owners were looking for a property in Boracay, but with the price for real estate skyrocketing on the island, they opted for an alternative, hence the Oceans Edge.
"Lahat ng gustong magtayo ng resorts sa Boracay (Everyone wants to put up a resort in Boracay) but then the prices there are skyrocketing, which I think for us was a blessing in disguise because if we went there and were affected by its closure while on our construction stage, it would've had a big an impact on our business," said Claribelle Alfeche, Oceans 11 Property Development Inc. chief executive officer (CEO) and owner.
"We're thinking of alternative that if not Boracay, where is the best next location? So someone suggested Carabao Island," she added. The resort was opened to the public early 2019, proving that investors are starting to see the island's potential as a future top tourist-drawing destination.
'Caves and beaches'
It is much of a surprise that Romblon has more aside from the bucolic life, hectares of rice paddy fields, and black pebbled beaches it has. A visit to Carabao Island would easily break this notion.
The island is blessed with a multitude of organic activities that allow visitors to appreciate its pristine beauty, experiencing nature as it is, such as spelunking and cliff diving to the clear cerulean sea. There is the Tan-agan Picnic Grove, the Poblacion White Beach, and the Cathedral Cave and Cliff.
But for thrill-seekers, Cathedral Cave may just be the perfect spot to tour on the island. This alone draws a fair share of visitors from the nearby Boracay with only PHP100 as a general entrance fee, which covers a guided tour inside the actual cave where you can access and dip in the lagoon's cold glassy turquoise water.
The entrance fee also includes an unlimited assisted cliff jumping even a non-swimmer or a beginner can try. The plunge, which will feel like a jump from a building's second or third floor, is both frightening and at the same time refreshing when you hit the water.
'How to get there'
The island is accessible via a pump boat from either Tablas or Caticlan where the nearest airports are located. In early 2017, Cebu Pacific launched its Tablas flight, the only airline flying directly from Manila to the area.
Carabao Island is also a perfect side trip for those already in Boracay since the town is a mere 30-minute boat ride from the world-famous island.
From Poblacion, San Jose, visitors can take a habal-habal for a trip around the lush island or rent a boat to visit its sprawling beach coves and cliff diving points. (PNA)