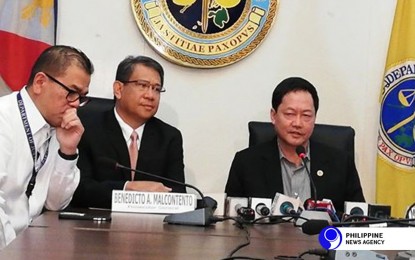 MANILA -- Prosecutor General Benedicto Malcontento urged government prosecutors to be front liners in the administration's crackdown against corruption in government, including wayward fiscals.
Speaking during the conference of the Prosecutors League of the Philippines (PLP) Wednesday, Malcontento cautioned prosecutors against official misdeeds.
"I must remind you, do not test the resolve of the current administration. There are few who are enterprising who sully the good name and reputation of the National Prosecution Service (NPS)," he told PLP members.
Malcontento urged upright prosecutors to help their corrupt colleagues to do away with their wrongdoings.
"Tulungan ninyo sila magbalik loob (Help them return to us). Do not destroy the entire organization," Malcontento said.
He also warned and assured that the NPS will continue to be quick to act on reports of alleged illegal activities being committed by prosecutors.
"We receive reports and we immediately act on it," said Malcontento, noting the NPS internal affairs unit handles these reports.
He said the NPS has yet to look into corruption complaints against fiscals, citing reports that many of these are merely harassment suits. (PNA)