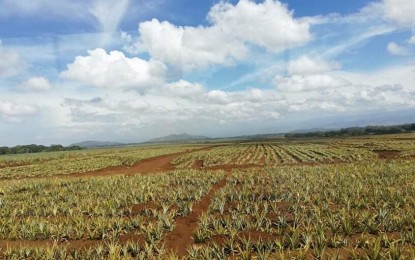 CAGAYAN DE ORO CITY -- The Philippines must harness the potential of the countryside as a way to boost inclusive growth.
During panel discussions, SteelAsia chairperson Benjamin Yao pushed for countryside industrialization, citing its inclusivity and contribution to the reduction of counterproductive activities in rural areas.
"Countryside development is inclusive. This does not only reduce local unemployment but it also reduces counterproductive activities of the unemployed such as resulting in criminality," he said on Wednesday during the 1st Philippine Industrial Summit in Mindanao.
Yao said in SteelAsia, many of its "capable and productive workers" are not even high school graduates.
At present, about 2,500 persons have been employed in existing SteelAsia plants, with around 14,000 indirect jobs created.
On top of this, at least 4,500 workers have been hired for its ongoing and upcoming projects operational between 2020-2023, with more than 20,000 indirect jobs created.
"The question of education is easily addressed by training and development, investing in skills and on-the-job training is sustainable, particularly in hiring locals from the countryside," Yao said.
Aside from job creation, Yao said making the countryside industrialized also promotes "self-reliance" as it provides an alternative to importation.
"Countryside industrializations provide the opportunity to keep knowledge and skills in the Philippines for Philippine use," he said.
In SteelAsia alone, the total logistics cost of shipping steel from Manila to Cagayan de Oro is around 50 percent more expensive than shipping from Russia to the Philippines, he said.
"The ultimate solution to enjoying the lowest possible logistics cost is to produce in the countryside," he said.
To date, SteelAsia plants in Mindanao are running at full capacity.
"We believe in the potential of growth of Mindanao and took the challenge to support this growth," he said.
Yao participated in the first Philippine Industrial Summit in Mindanao which runs from November 25 to 28 in Cagayan De Oro City.
The summit, themed "Building An Assertive Industrial Philippines", is a collaborative project of PIE-MO Industries Association, Inc. and PHIVIDEC Philippine Industrial Authority (PIA).
Throughout the event, participants including industry leaders, policymakers, government representatives were also toured at Del Monte in Bukidnon, one of the world's biggest pineapple plantations, as well as the vast PHIVIDEC Industrial Estate where prominent Philippine companies such as the San Miguel Corporation and Gardenia have set hubs. (PNA)