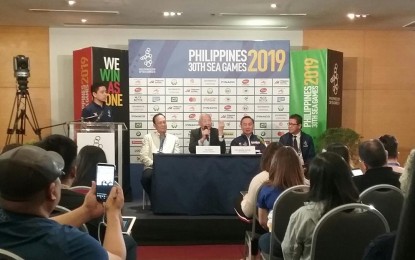 MANILA – Impressed by the opening ceremonies of the 30th Southeast Asian Games, Wei Jizhong, the honorary life vice-president of the Olympic Council of Asia (OCA), on Monday said the Philippines is capable of organizing "bigger-scale" games like the Asian Games.
"The opening ceremony, perhaps, is unique at the biggest indoor arena in the world. We saw the enthusiasm of all the athletes, you allowed all the athletes to walk in because in other Games they limit. The parade is for the honor of the athletes," Wei said in a press conference at the World Trade Center in Pasay City.
"This means that Philippines is capable to organize bigger-scale Games," he added.
Wei commended the Philippines for apologizing for the "inconveniences" encountered by some foreign delegates upon arrival at the airport.
He said other host countries also experienced glitches, calling it normal in any multi-event competition like SEA Games which is being participated by at least 11,000 athletes and officials from 11 countries.
The sports official also lauded the Games' volunteers and the Filipino people's love for sports.
President Rodrigo Duterte earlier apologized for the problems that greeted the delegates of the biennial meet.
Duterte said similar mistakes could have been avoided if the PHP6-billion budget for the multisport event was used "correctly".
"You can do it, not really with precision, but had you made most of the money then you could have avoided the critical situations, the mishaps," Duterte said in a television interview on GMA's Unang Hirit aired Monday morning.
Philippine Southeast Asian Games Organizing Committee (Phisgoc) chairman Alan Peter Cayetano also apologized for the SEA Games snafu.
"To have some problems at the beginning of the games, in all the other events... it happens. But the apology of the president and the speaker [of] parliament... it is the first time," We said.
"It means the high authority is very keen to provide the athletes the best condition," he added.
Asked for comment, Philippine Olympic Committee president Bambol Tolentino said there is nothing wrong in trying to bid for the Asian Games.
"I-evaluate pa nila 'yan (They still have to evaluate that)," said Tolentino, who joined Wei in the media briefing.
Meanwhile, Wei said the multi-sports events like the SEA Games serve as "platform" for all especially the youth.
"We all win as one," he said, quoting the 30th SEA Games' theme: "We Win As One".
The Philippines is hosting the SEA Games for the fourth time. The Games was held in the country in 1981, 1991 and 2005 when the Filipinos won their first overall championship. (PNA)