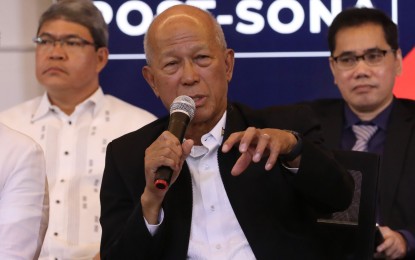 MANILA -- The Scorpene diesel-electric submarine manufactured by French defense contractor Naval Group (formerly DCNS), is appropriate for the Philippines' requirement.
"It (Scorpene diesel-electric submarine) is a very good sub, appropriate for our needs," Defense Secretary Delfin Lorenzana said in a message to the Philippine News Agency when asked for an update on the project late Monday.
Lorenzana said he was able to get a first-hand look on the French-made submersible during his visit to France last week.
He went there shortly after his trip to South Korea with President Rodrigo Duterte for the ASEAN-Republic of Korea Commemorative Summit held November 24 to 26.
"Yes, we went to see the Scorpene," Lorenzana told PNA but did not give additional details.
The DND chief arrived in the Philippines after his trip to France on Sunday night. Earlier, Lorenzana said the Scorpene is one of the submersibles being evaluated by the Philippine Navy (PN) for its planned submarine arm.
The Scorpene-class submarine features a diesel and additional air-independent propulsion. It can be armed with a variety of mines, torpedoes, and missiles for a variety of missions. It also has a top speed of 20 knots.
He added that should the PN submarine acquisition program pushed through, it will be acquired via government-to-government procurement.
"The submarine, if we finally decide to buy them, will be on a government-to-government procurement and under a loan so that we do not need a large upfront capital outlay," he said in an earlier interview.
Aside from the French-made Scorpene, Lorenzana said the DND is looking at proposals made by Russia, South Korea, and Germany. (PNA)