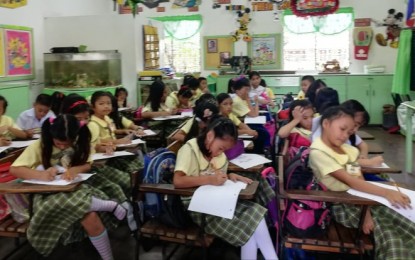 ILOILO CITY -- The Department of Education (DepEd) in Iloilo on Tuesday said schools need the permission of parents before it undertakes make-up classes for students in a bid to catch up with their lessons.
This, as Typhoon Tisoy (international name Kammuri) on Tuesday automatically suspended pre-school to senior high school classes in the 43 local government units in the province.
The class suspension is based on Executive Order 66 stating that when typhoon Signal No. 2 is raised "classes at the pre-school, elementary, and secondary levels in the affected area shall be automatically canceled or suspended."
The typhoon hindered the regular class hours, thus schools are requested to conduct make-up classes, Dr. Roel Bermejo, DepEd-Iloilo schools division superintendent said in a phone interview.
Bermejo said the local chief executives have the discretion to declare the suspension of classes.
While schools in the 43 municipalities suspended classes on Tuesday, Bermejo said there were already some which earlier declared the class suspension on Monday.
"This (class suspension) is for the safety of the children. There were also schools in the far-flung areas that suspend classes when there are risks of heavy rain, even without a typhoon signal and that is allowed," he said, noting that children in far schools need to cross rivers to get to school.
Allowing the schools with such suspension keeps the children away from danger, he said.
"That is okay as long as those who suspend classes are requested to conduct make-up sessions to complete the required number of days based on the school calendar," he said.
In conducting the make-up sessions, schools are required to secure permission from the parents of the students.
Make-up classes can be scheduled on a Saturday or for the teachers to extend at least an hour of their regular class hours to catch up with the lessons.
"The make-up classes depend on the design of the schools. These are based on the Parent-Teacher Association approval," Bermejo said.
Meanwhile, schools being used as evacuation centers during disasters are an "automatic response" of the school heads. He said the schools could be used as a safe shelter for residents during weather disturbances.
As of 2 p.m. on Tuesday, Bermejo said no school building in the province was utilized yet as an evacuation center. (PNA)