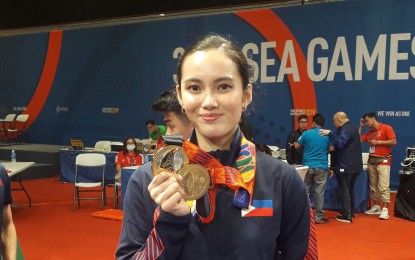 MANILA – Agatha Chrystenzen Wong on Tuesday bagged her second gold medal as the Philippines emerged overall champion at the wushu competition in the ongoing 30th Southeast Asian Games.
The 21-year-old Wong garnered a score of 9.650 points to beat Vietnamese Thi Minh Huyen Tran who settled for silver medal in the women's wushu taolu taijijian event at the World Trade Center in Pasay City.
Last Sunday, Wong came out with a spectacular performance to retain her gold medal in taolu taijiquan event.
"I'm really grateful to have the opportunity to compete in the Southeast Asian Games and I'm really proud to represent the Philippines," said Wong who has now a total of three SEA Games gold medals.
"I'm really surprised that I garnered two golds. I am really, really honored," she added.
Fired up by Wong's double-gold victory, the Filipino campaigners won five of the seven finals in sanda events to the delight of big hometown crowd.
Jessie Aligaga ruled the men's 48-kilogram sanda finals after beating Ade Permana of Indonesia, 2-0, while Francisco Solis defeated another Indonesian Yusuf Widiyanto, 2-0, for the gold match in 56kg class.
Arnel Mandal also smothered Laksamana Pandu Pratama also of Indonesia in the 52kg finals.
In the 65kg finals, Cemente Tabugara Jr. edged Kittisak Suksanguan of Thailand, 2-1, for the gold while Divine Wally blanked Thin Chinh Nguyen of Vietnam in the women's 48kg sanda finals.
Fred Gideon Padua, however, bowed to Truong Giang Bui of Vietnam and settled for the silver medal in the 60kg category.
The Philippines won a total of seven golds, two silvers and one bronze while Vietnam came in second place with three golds, one silver and seven bronzes followed by Indonesia with two golds, five silvers and two bronzes.
Singapore has one gold and a silver while Thailand brought home one silver and two bronzes. (PNA)