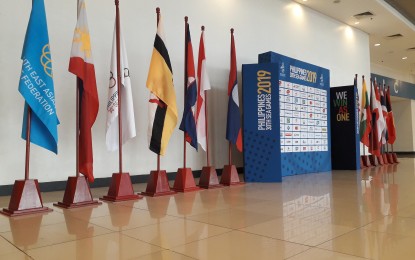 CLARK, Pampanga -- A mix of young blood and veterans will try to end the four-year gold medal drought of the Philippines both in the recurve and compound events when the archery competition of the 30th Southeast Asian Games is set to open on Thursday here at the Clark Parade Grounds.
The 16-man national team will be bannered by 2014 Asian Games bronze medalist Paul Marton dela Cruz together with 2014 Youth Olympic Games gold medal winner Gabriel Moreno and Olympian Jennifer Chan.
The medal match and awarding will be held on December 8 and 9.
Dela Cruz will lead the men's compound team together with Johan Olano, Roberto Badiola and Arnold Rojas, while the four-man recurve squad is composed of Moreno, Florante Matan, Jayson Feliciano, and Carson Hastie.
The 54-year-old Chan, a three-time SEA Games gold medal winner, will lead the women's compound team alongside Andrea Robles, Rachelle Ann dela Cruz, and Abbigail Tinugduan while women's recurve team will have Kareel Hongitan, Pia Bidaure, Phoebe Amostoso, and Gabrielle Monica Bidaure.
The Filipino archers last won a gold medal, courtesy of the men's compound team of Earl Benjamin Yap, Ian Patrick Chipeco and Delfin Anthony Adrian in the 2013 SEA Games held in Myanmar.
In the last edition of the biennial meet in 2017 in Malaysian, the Filipino archers settled for silver and four bronze medals.
Nicole Marie Tagle took the silver in the women's individual recurve, while the four bronze medals were delivered by Paul Marton dela Cruz (men's individual compound), Earl Benjamin Yap, Paul Marton dela Cruz and Joseph Vicencio (men's team compound), Moreno, Matan and Mark Javier (men's team recurve), and Nicole Marie Tagle, Kareel Meer Hongitan and Mary Queen Ybañez (women's team recurve).
Team Philippines faces tough opposition from Malaysia, Vietnam, and Singapore. (PR)