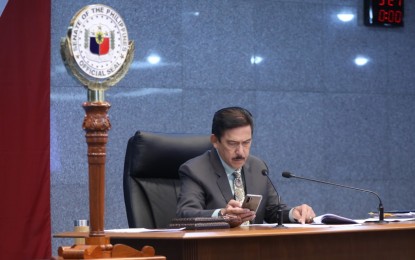 MANILA -- Senate President Vicente Sotto III on Wednesday said he fully supports President Rodrigo R. Duterte's move to amend the alleged "one-sided" concession agreement between the government and water companies Maynilad Water Services, Inc. and Manila Water Co., Inc., and hold all persons behind the contract accountable.
"After hearing his explanation last night on how we are being taken for a ride by these concessionaires, I told him I'm supporting him 100 percent on the issue," Sotto said in a text message to reporters.
President Duterte on Tuesday assailed the provisions in the 1997 water concession agreements with the two private firms that are allegedly disadvantageous to the government.
Among the assailed provisions are those that prohibited government interference in rate-setting and the provision for indemnity in case of such government interference.
"Ang kontrata napaka-tagilid na tagilid (The contracts are very one-sided) because if they fail to realize the profit enduring the lifetime of the contract or at any period, babayad tayo sa nalugi nila (we will pay for their losses)," Duterte said at the Palace following the signing of two laws.
An arbitration court in Singapore recently asked the Philippine government to pay Maynilad PHP3.6 billion and Manila Water PHP7.4 billion over losses due to the disapproved rate increase.
"We are being milked by billions and pinapabayad pa tayo ng mga (yet we are still ordered to pay) fines and penalties," he said.
Duterte said he has asked Solicitor General Jose Calida to craft a new water contract that will be both "favorable" to the public and the government.
"Ibigay mo sa kanila (Give it to them). This is the amended contract. Accept it or nothing to it. Pero... hahabulin ko talaga sila (But I will really run after them) for economic sabotage," the President said.
Meanwhile, Senator Imee Marcos also expressed her support for the President on the issue.
"Water is universally recognized as a human right, not merely a commodity. I support PRRD's desire to assail these onerous contract that deprives Filipinos of both their right to water, as well as impose liabilities upon government even when service and supply fail," Marcos said.
On the other hand, Senator Francis Tolentino said the Senate should look into the matter.
"As the one who gave the franchise, it (conducting a probe) is part of the oversight function of Congress," he said in a news forum.
The neophyte senator said he is set to deliver a privilege speech concerning the water issue on December 9.
"Probably it will lead to that investigation," Tolentino said. (PNA)