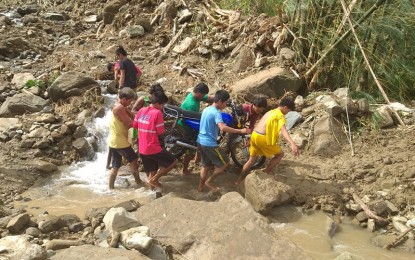 TACLOBAN CITY -- Northern Samar's Provincial Disaster Risk Reduction and Management Council (PDRRMC) on Wednesday recommended the declaration of state of calamity as Typhoon Tisoy killed three people, injured 73 others, and displaced thousands of residents in the province.
Governor Edwin Ongchuan and the rest of the PDRRMC recommended to the provincial board the declaration of a state of calamity based on the initial damage report during a special meeting in Catarman town on Wednesday afternoon.
The provincial government reported on Wednesday night that a landslide in Buenasuerte village, Victoria on Monday killed three brothers, aged 16, 10, and four years.
The rapid damage assessment and needs analysis consolidated on Wednesday night showed that the typhoon has affected 224,171 individuals or more than a fifth of the population of the province.
Based on the post-disaster assessment, "Tisoy" damaged 28,577 houses and washed out 3,774 more.
"Some areas, like Silvino Lubos and other Pacific towns, are still inaccessible due to landslides and road collapse. The local and regional DPWH (Department of Public Works and Highways) offices are working together to ensure that areas like Naperez village in San Roque will become passable again by land in as early as December 7," the provincial government said in a statement.
Northern Samar's agricultural and fishery sectors sustained PHP162.35 million worth of damages, based on partial reports.
About PHP173.04 million worth of infrastructure has been destroyed when the typhoon unleashed its wrath.
The Northern Samar Electric Cooperative said power supply would be restored in Catarman and nearby areas before December 25, but other towns may be without electricity until after Christmas after the typhoon toppled several electric posts.
"Tisoy" brought strong winds of more than 135 kph and 605.5 mm. of rainfall in a span of 24 hours in Northern Samar starting Monday afternoon. (PNA)