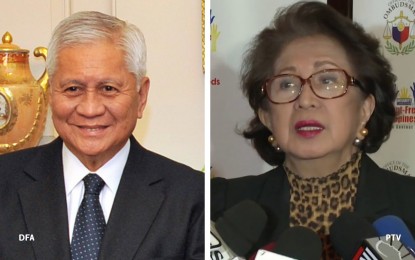 MANILA -- The International Criminal Court (ICC) on Thursday said it has no jurisdiction on the complaint of former Foreign Affairs Secretary Albert del Rosario and former Ombudsman Conchita Carpio Morales alleging that Chinese President Xi Jinping and other Chinese officials have committed crimes against humanity over Beijing's activities in the South China Sea.
In the report, ICC Prosecutor Fatou Bensouda said that "the crimes allegedly committed do not fall within the territorial or otherwise personal jurisdiction" of the ICC.
Del Rosario, Morales along with other Filipino fishermen in March 2019 accused Xi and some Chinese officials as accountable for crimes against humanity over China's activities within the Philippines' exclusive economic zone (EEZ) in the South China Sea and for depriving Filipino fishermen of food and livelihood.
The communication also alleged that China engaged in massive illegal reclamation and artificial island-building in the Spratly Islands as well as tolerated illegal and harmful fishing practices by Chinese nationals in the area, which they claimed not only violated the law of the sea but gave rise to crimes against humanity.
In its report dated December 5, Bensouda's office pointed out that "China is not a State Party to the Rome Statute. Accordingly, the ICC lacks personal jurisdiction".
The international court may exercise territorial jurisdiction over the alleged crimes to the extent that they were committed in Philippine territory from November 1, 2011 until March 16, 2019 or before Manila's withdrawal from the ICC took effect on March 17.
However, it argued that the alleged conduct "occurred in areas that are outside of the Philippines' territorial sea" or areas farther than 12 nautical miles from its coast, but nonetheless within areas that may be considered to fall within its declared EEZ.
"The Office has concluded that a State's EEZ (and continental shelf) cannot be considered to comprise part of its 'territory' for the purpose of article 12(2)(a) of the Statute," the ICC Prosecutor said, explaining that the "territory" referred to includes those areas under the sovereignty of the State, namely its landmass, internal waters, territorial sea, and the airspace above such areas.
Meanwhile, it pointed out that the ICC could exercise its jurisdiction if the alleged crime was committed on board vessels registered in a state party to the Rome Statute. This condition, however, is not met, given that the conducts in question were purportedly committed onboard Chinese registered vessels.
"Finally, as previously highlighted, the remaining basis for the exercise jurisdiction (active personality) under article 12(2)(b) is also not met, given the Chinese nationality of the alleged perpetrators in question," the ICC Prosecutor said.
"Accordingly, the Office concluded that the crimes allegedly committed do not fall within the territorial or otherwise personal jurisdiction of the Court," it added.
In a joint statement issued a day after the report's release, del Rosario and Morales vowed to continue pursuing the case. (PNA)