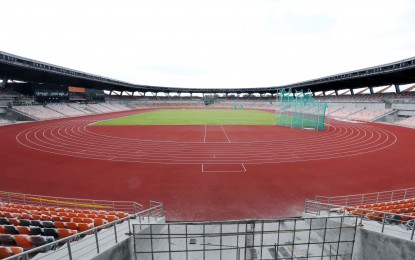 CAPAS, Tarlac – Unheralded Christine Hallasgo pulled off a huge surprise early Friday morning, dethroning defending champion Mary Joy Tabal to secure the 30th SEA Southeast Asia Games women's marathon crown in the race that began and ended inside the New Clark City Athletic Stadium here.
Hallasgo overtook the fading Tabal with one kilometer left just in front of the NCC Aquatics Center and surged ahead all alone at the finish line in two hours, 56 minutes and 56 seconds in a remarkable SEA Games debut.
Struggling behind her was Tabal, who slowly crumpled in a heap out of exhaustion, checking in at 2:58.49 for the silver, but had to be carried off the track in a stretcher. The Cebuana walked on her own after 30 minutes, looking none the worse for wear.
Vietnam's Pham Thi Tong Le came in a distant third (3:02.52) for the bronze in the 42.195-kilometer race that began with a foggy haze at dawn and ended under a hot sun.
Indonesia's Agus Prayogo clocked 2:26.48 in ruling the men's marathon with Thailand's Sanchet Namkai (2:27.18) and Malaysia's Muhaizar Mohamad (2:33.08) taking the silver and bronze, respectively.
Jerald Zababala finished fifth (2:37.20) while Anthony Nerza sixth (2:39.28) for the locals in the men's division
"Hindi ko po akalain na mananalo ako. Tinignan ko lang po kung sino maabutan ko (I did not expect to win. I just kept my pace)," said Hallasgo, of Malaybalay, Bukidnon, of her stunning upset of the fancied Tabal, who had led early but showed signs of slowing down late into the 42.195-km race.
In contrast to Tabal's extensive overseas training and exposure, Hallasgo, known more as a 21K runner, merely trained locally and was a late addition to the national team.
"I really was kinda surprised by her (Hallasgo's) victory although she was in our long list of possible options (for the women's marathon)," said athletics chief Philip Ella Juico, who witnessed the arrival of both runners inside the VIP box of the arena.
"In fact, we asked BCDA official Arrey Perez if Hallasgo could check in with the rest of the national team at the Athletes Village here after our test event last Sept. 1 and we were fortunate that we got her in," he added.
"Sa sarili ko po (I told myself) I just wanted to finish no matter kung anong mangyari. Alam kong walang na (what will happen. I know I'm losing) because I am so exhausted. I am just happy that finished second. Nakapag 1-2 kami (Me and Hallasgo we're able to get 1-2 finish)," Tabal told reporters later.
Coming off more than two months of training in Japan, where the climate is relatively cool, the Cebuana runner said she was affected by the heat, and felt pressured performing in front of her compatriots "although I tried to use that as my motivation".
Obiena guns for pole fault gold
Meanwhile, after a silver in the 2015 Singapore Southeast Asian Games and skipping the Malaysian edition two years ago due to injury, Olympic-bound pole vaulter Ernest John Obiena is expected to go all out for gold on Saturday at the NCC Athletics Stadium.
All eyes will be on the lean and lanky athlete when he takes to the field at 5:30 p.m. as the top favorite after qualifying for the 2020 Tokyo Olympic Games in clearing 5.81 meters in ruling the Salto Con L'Asta competitions in Piazza, Italy last September.
This exceeded the Olympic qualifying cut of 5.80 meters, which is also superior to the gold-medal winning height of 5.35 meters set by Thailand's Porranot Purahong in the 2017 SEA Games.
It has been a banner year for Obiena, who also clinched top honors in the world championships in Doha, Qatar and the World University Games in Naples, Italy.
Over the past four years he has been training at the special IAAF training camp under the tutelage of noted Serbian coach Vitaly Petrov, the former mentor of world and Olympic champion Sergey Bubka and Rio Olympic gold medalist Thiago Braz da Silva of Brazil.
He has repeatedly said that he would love nothing better than clinched the mint in front of his countrymen before resuming his training for the Tokyo Olympics.
But Obiena won't be alone in the bid for gold as Fil-Am sprinter Kristina Knott will be seeking to dethrone Vietnamese sprint queen Le Thu Chinh in the women's 200-meter run whose heats start at 8:50 p.m.
Knott has a personal best of 23.23 seconds in the event, better than Le's winning time of 23.32 in the 2017 Malaysia Games.
Zion Corrales-Nelson, who was also supposed to run the 200-meter dash, decided to skip the event and concentrate on the century sprint on Sunday.
Former SEA Games hammer throw champion Arniel Ferreira, who took bronze in Malaysia, also hopes to draw inspiration from hometown fans when takes to the field at 6:15 p.m.
Sarah Dequinan and Josefa Ligmayo open their campaign in the women's heptathlon also on Saturday. (PR)