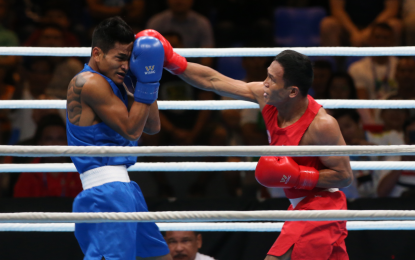 MANILA – Olympians Rogen Ladon and Charly Suarez of the Philippines clinched semis berth in the boxing competitions of the 30th Southeast Asian Games Thursday by outclassing their respective quarterfinal foes at the PICC Forum.
Ladon dispatched Indonesia's Aldoms Sugoro, 4-1, in the flyweight division while Suarez beat Min Arkar Paing of Myanmar by majority decision to assure themselves of at least bronze medals.
The Filipinos, however, suffered a casualty in John Marvin, the defending light-heavyweight champion, who lost to Truong Dinh Hoang of Vietnam 2-3.
Ladon and Suarez joined Carlo Paalam and the women's trio of Josie Gabuco, Irish Magno, and Aira Villegas in the semis, along with AIBA World silver medal winner Eumir Felix Marcial, Ian Clark Bautista, and Riza Pasulit, who all drew byes.
The semifinals will be held Friday night.
Having advanced to the finals is AIBA World Women's champion Nesthy Petecio, who will be up against a Myanmar opponent for the gold in the featherweight division.
Meanwhile, kickboxing makes its debut in the 30th SEA Games on Saturday with preliminary and quarterfinals matches at the Cuneta Astrodome in Pasay City.
The semifinals will be held on Sunday and Monday. The finals, where eight gold medals are at stake, will be held on Tuesday.
The Philippines will send Jomar Balangui, Renalyn Dacquel, Rex De Lara, Gina Iniong and Ruel Catalan into action on opening day.
Samahang Kickboxing sa Pilipinas chief, Sen. Francis Tolentino, is hoping the Nationals will make an impact in the four-day event.
"The first day is always scary but if we can hurdle that, we have a good chance," he said.
The association has tapped the expertise of several boxing coaches from Team Pacquiao of Senator Manny Pacquiao, two-time Olympian Donald Geisler and mixed martial arts ace Mark Sangiao, to train the Filipino bets. They also trained in Baguio, Tagaytay and Cambodia.
Events on tap are kick light (men's 69kg, women's 55kg), full contact (men's 51kg, men's 57kg, women's 48kg), and low kick (men's 54kg, men's 60kg, men's 63.5kg). (PR)