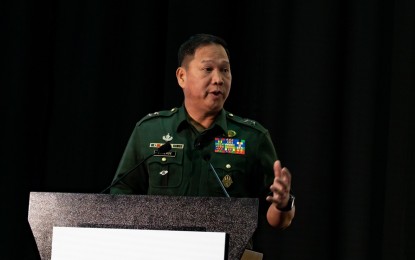 MANILA – A ranking official of the National Task Force to End Local Communist Armed Conflict (NTF ELCAC) said communist groups and their supporters appeal for pity whenever they get themselves into a tight corner.
Major General Antonio Parlade, Jr., who is also Armed Forces of the Philippines (AFP) Deputy Chief-of-Staff for Civil-Military Operations, said this is clearly being demonstrated by the Rural Missionaries of the Philippines (RMP) when it announced that it wants Sister Elenita Belardo, its former national coordinator, excluded from the perjury case filed by the NTF ELCAC due to her old age.
"That's 'argumentum ad misericordiam' or appeal to pity. The RMP's argument is actually full of fallacies and that's the result of years of exploitation by the CPP (Communist Party of the Philippines)," he said in a statement to the PNA Saturday.
The perjury complaint had been filed by National Security Adviser Hermogenes Esperon Jr. who claimed RMP officials and others perjured themselves in the petition for writs of Amparo and habeas corpus filed before the Court of Appeals (CA) against the former and other government officials.
Senior Assistant City Prosecutor Nilo Peñaflor, in the petition filed before the CA by CPP-NPA front groups, said Belardo "knowingly made untruthful statements under oath" when she said the RMP is a "duly registered non-stock, non-profit organization."
"In fact the accused very well knew that said allegations were false and untruthful as the certificate of registration of RMP was already revoked effective September 29,2003," Peñaflor added.
Parlade said using old age as means to forestall legal liability is a weak argument as CPP founding chairperson Jose Maria "Joma" Sison is as old as Sister Elenita but the former is still capable of ordering communist rebels to attack government troops and assassinate key NTF ELCAC officials.
"Shall we pity Sister? Shall we go soft on 'Joma' who has been ordering his allies in Bayan to continue recruiting very young children to join Anakbayan, LFS (League of Filipino Students) and Kàbataan, and eventually become full-time NPAs (New People's Army) members)? Shall we continue to allow 'Joma' to prosecute all these violence to all of us because he is old?" he added.
He said attempts to justify Sister Elenita's act by claiming that the nun spent most of her adult life by working to uplift the lives of the rural poor as her testament of her love and commitment to Christ is not justifiable.
"RMP national coordinator Sister Elsa Compuesto is also justifying Sister Elenita's act by citing that the latter 'spent most of her life working with the rural poor as a testament of her love and commitment to Christ'. Don't you think you are using the name of Christ in vain? Isn't it what Father Fausto 'Pops' Tentorio, an Italian communist priest did in Arakan, North Cotabato?" he said.
Fr. Tentorio, he added, worked in very poor and isolated areas, sent 800 young indigenous children on scholarship but produced more than 700 NPA cadres out of them.
"Now he is acclaimed in Ibon Foundation manuals for Salugpungan schools, as a National Hero (Basic Education Curriculum Guide, Kindergarten to Grade 6, Salugpungan Ta 'Tanu Igkanogon Community Learning Center Inc) or PAGKAKAUGNAY Araling Panlipunan 3, Edisyong 2015, Ibon Foundation). An Italian rebel as our national hero?" he said.
He went on to ask the group on whether recruiting innocent minors to beef up the ranks of the communist rebels can be considered a testament of love even if allegations about government abuse, militarization, and pillage of ancestral domain is true.
"Is it Holy and Christian-like to allow our children to be pushed to danger by radicalizing them? Another 16-year-old NPA was killed last November 30 in an encounter in Butuan City. Litboy Talja Binongcasan was only 14 when he went missing in Gingoog City to join the NPA," he added.
Since militant groups do not know the answer to his questions, Parlade surmised this is among the reasons why the sisters and priests booted him out when he arrived at the National Union of Peoples Lawyers forum "Weaponizing the Law: Criminalizing Dissent" held on Nov. 27.
"Maybe the sisters and priests at the QC Sports Club booted me out because they did not have answers either. Sister Liza Ruedas of the Daughters of Charity, Father Enriquez, and Father Bert Alejo knew they are being exploited by the Christians for National Liberation (CNL), the underground CPP organization embedded among the religious. How can you not stand up against the radicalization of our children by the CPP if you have compassion to the young?" he added.
He added that RMP claims that it is not involved in aiding the CPP-NPA does not hold water due to the testimony of their own finance staff who surrendered and admitted to disbursing your funds for the communist rebels.
"Gliceria Balangiao, your finance officer in CDO (Cagayan de Oro) has narrated how she collects funds sent to Mindanao Interfaith Services Foundation Inc (MISFI) by European NGOs like 11.11.11 and Solidagro of Belgium, from a dollar to a peso account, then disbursed to CPP-NPA personalities, their families in the form of SUPAMlL (Suporta sa Pamilya), and other CPP front organizations. She also admitted to supporting the GenSan 12, top CPP personalities captured in GenSan (General Santos City) last year," he said.
The CPP-NPA has been listed as a terrorist organization by the United States, European Union, the United Kingdom, Australia, Canada, New Zealand, and the Philippines.
"So, Sisters Elenita and Elsa, we admit to being sinners but are you telling this Catholic nation that you are too holy to lie, and so people should believe you about your works? Are you saying that Sister Coni Ledesma, now wife of Father Jalandoni, all stooges of 'Joma' Sison in Utrecht are saints too, and should not be vilified by the government because they are simply dissenters? That's not what we see in the walls of Manila," he said. (PNA)