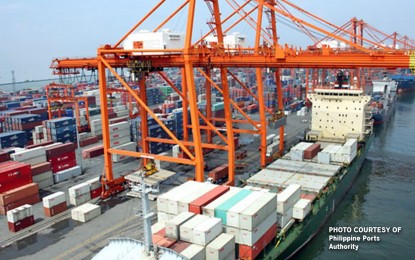 MANILA -- The Department of Trade Industry (DTI) expects exports of goods and services to increase by 2 to 4 percent up to about USD99 billion this year, with services leading the growth.
"I think it's now between 0 to 1 (percent growth); the way it appears, this is for goods only. Because services will still show about single-digit growth," DTI Secretary Ramon Lopez told reporters over the weekend.
Lopez said they were hoping to hit 2-percent rise in exports of goods this year, but the United States-China trade war has impacted supply chain activities.
While the country's exports to China and the US continue to grow, he said demand for products which are exported to other countries and wherein the Philippines is part of the supply chain, is affected.
"So kahit naggo-grow tayo ng export (even we grow our exports) to US and China, on the overall, other products are affected. So this is tempered because some elements are affected by the trade war," he added.
Lopez said services exports, meanwhile, are mainly driven by information technology and business process management (IT-BPM), as well as creative industries such as graphic design, game development, and software development, which have been identified as service winners.
Earnings from exports of goods and services reached USD95 billion last year, he said.
In 2020, Lopez sees the country's exports of goods and services growing at higher 4 to 6 percent.
"There is hope that there is settlement to this China-US (trade war) and there is base effect considering 2018 and 2019 somewhat slowed down. Hopefully, we can go back on track in terms of growth rate," he said.
Lopez said the electronics sector is expected to bounce back as some elements of its supply chain are affected by the trade war.
Affected are exports of sectors related to manufacturing, such as furniture, fixture and petroleum, he said.
"And we can credit also in domestic demand that instead of export, these (products) are sold here because of that strong demand locally so somehow, there is that trade diversion effect. Since the question is the outlook for next year, then I think we can say positively that it can only be better. Of course, that hinges on the better negotiation between the two major economies," he added.
Lopez said the country's total exports are on track to hit the USD122-billion goal by 2022.
The exports revenue goal was set under the Philippine Export Development Plan. (PNA)