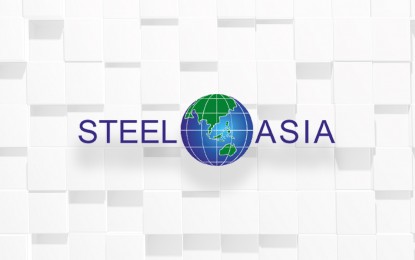 MANILA -- SteelAsia Manufacturing Corp., the country's largest steel producer, plans to invest an additional PHP25 billion to build two more facilities as it embarks on an aggressive expansion drive to meet market demand, and enter the local bourse within two years.
"We are capacity constrained today. On a per capita basis compared to our neighboring countries, we are much lower and we are filling it right now. Lots of demand is coming in, we haven't seen the real Build, Build, Build (infrastructure program) which we believe will start to kick-in next year," SteelAsia chairman and chief executive officer, Benjamin Yao said, in an interview with the Philippine News Agency on Monday.
Yao said they intend to put up a steelmaking facility on a 90-hectare property in Concepcion, Tarlac at a cost of PHP20 billion. It will have a capacity of 1.7 million tons for finished products.
"We are waiting (to get) licenses and permits (to build the facility)," he said. "That's almost similar to Candelaria (Quezon mill), it will have wire rods and rebars but bigger because central Luzon covers practically the whole Luzon, including northern Luzon."
Yao said the company has also acquired a property in Iloilo City where it can establish a rebar facility at a cost of PHP5 billion.
Once completed, such facility targets to serve customers in Western Visayas, he added.
Yao said they intend to obtain bank financing and scout for investors to help support funding of the facilities.
The two planned facilities are in addition to the three plants the firm is putting up in Compostela, Cebu; Lemery, Batangas; and Candelaria, Quezon; with investments of PHP36 billion combined.
Company officials are also bullish in their outlook for the market in 2020 and over the next five to 10 years.
"We'll gonna be very busy (next year). In fact, last month, we hit record orders," Yao added.
Rafael Hidalgo, Vice President for Business Development, said: "There is a lot of developments going in the Philippines today, just not the projects of the government --the Build, Build, Build and the infrastructure, but the private sector in general has a lot of confidence in the Philippines. So many of the private developers are investing in not just high rise but including these upcoming (projects like) the bridges, airports."
Meanwhile, Hidalgo is optimistic about holding an initial public offering (IPO) within two years.
"We started preliminary work already on the corporate side but going out to actually starting the process with SEC (Securities and Exchange Commission), hindi pa nagsa start (it has not started)... We are also busy with the expansions so it depends on how fast we can start but within two years," he told reporters. (PNA)